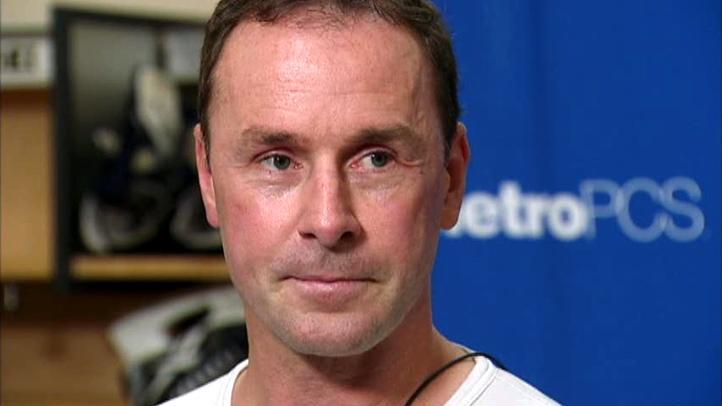 With the 2014-15 NHL season getting ready to kick off, Madhouse Enforcer will be previewing the upcoming campaign with a series of articles predicting how the season will shake out.
Today, we check out what's in our own backyard as we make our picks in the Central Division.
1. St. Louis Blues
Adding Paul Stastny to the mix is going to be a great move for the Blues as they shore up their center depth to compete with the other top-tier teams in the West. Adding Carl Gunnarsson as a third-defensive pairing guy bolsters their depth defensively. About the only question we have about the Blues is whether or not Brian Elliott and Jake Allen will be able to nail down the crease. That being said, we're picking St. Louis to emerge from a rough and tumble division and narrowly fend off Chicago and Dallas.
2. Chicago Blackhawks
A Blackhawks blog picking the Blues to finish ahead of Chicago? This heresy is one that we'll have to live with, because we simply don't trust the Hawks' defensive depth just yet. Yes, the top four defensemen in the lineup are all excellent players, but if an injury takes any of them out, the team is in big trouble with guys like Trevor van Riemsdyk, Michal Rozsival, and Kyle Cumiskey in the mix. We do love the Brad Richards signing, and we agree with some that Kris Versteeg should have a better year than he did last season, but that isn't enough to pick them to win the best division in hockey.
3. Dallas Stars
There were plenty of active teams during the offseason, but none improved their team as much as the Stars did. Their center depth was bolstered considerably by the addition of Jason Spezza, and they also brought in Ales Hemsky to play on the wing. Those additions make their top six downright dangerous, and if Tyler Seguin can build on the year that he had last season alongside Jamie Benn, this team is going to be one that no one wants to face in the playoffs.
4. Colorado Avalanche
Everyone is anticipating some sort of regression for the Avalanche, and while we agree that they'll be a little bit less frightening this year, they still have plenty of weapons. Adding Jarome Iginla should help to soothe the loss of Stastny, and having young players like Nathan MacKinnon, Matt Duchene, and Gabriel Landeskog ensures that they will be competitive for the foreseeable future.
5. Minnesota Wild
This group should still be really good with the addition of Thomas Vanek to an offense that is gaining experience and skill, but there are still concerns. Losing Dany Heatley, Matt Moulson and Clayton Stoner in the offseason is tough to absorb, and constant injury concerns throughout their goaltendeing corps really puts a damper on things. They managed to roll with the punches through playing what felt like 16 goalies last season, but can they survive that again in a really tough division?
6. Nashville Predators
You may think this is some type of revenge for the Predators making our 2013-14 picks look foolish, but you'd be mistaken. We like the Predators' additions this offseason, with James Neal, Mike Ribiero and Anton Volchenkov highlighting the list. We like their defensive core, which includes perennial beast Shea Weber and youngster Seth Jones. We like their goaltender Pekka Rinne. The only thing we don't like about Nashville is that they share a division with five other really good teams, and we're picking them to be the odd team out.
7. Winnipeg Jets
With young players like Jacob Trouba and Evander Kane, it would be nice to see the Jets be a competitive team, but it's hard to see that happening this year. They still have arguably the worst starting goaltender in the NHL in Ondrej Pavelec, and their top six is decent, but nothing spectacular. Their defense would really have to overperform, and their offense would have to all have huge seasons for them to even be remotely competitive for a playoff berth.