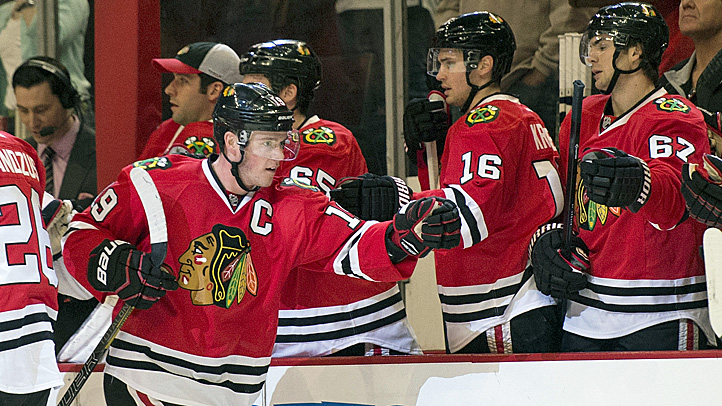 The Chicago Blackhawks will begin their Stanley Cup title defense on Tuesday night, just 80 days after winning the championship in Boston against the Bruins.
Before they drop the puck on the new campaign, it feels right to jump into the prediction frenzy with a list of five predictions of things that will happen during the upcoming season.
Marian Hossa Will Reach 1000 Career Points
Currently sitting at 935 points for his NHL career, Hossa would need 65 to achieve that milestone. The feat is definitely doable this season for the Hawks' veteran winger, since he had 77 points in the team's last full 82 game slate in 2011-12, but it will be contingent on whether or not he can stay healthy.
Last season, Hossa was sidelined with a couple different injuries, including a back ailment that caused him to miss Game 3 of the Stanley Cup Final. He says that he is healthy to begin the year, and when combining that news with the fact he'll be on a line this season with a guy in Michal Handzus who he clicked with during last year's playoffs, we're going to say Hossa will hit the 1000 point plateau.
Johnny Oduya Will Be Traded By the End of the Season
Oduya has been very solid during his Hawks' career, but with the impending need to dish out new contracts to guys like Patrick Kane and Jonathan Toews, the organization might try to move him before his contract expires at the end of the 2014-15 season.
Add to that the fact that the Hawks have several guys in the pipeline who will be looking to make the jump soon, like Adam Clendening and Dylan Olsen, as well as the depth that they have at the NHL level right now with carrying eight defensemen, and Oduya's contract may be looked at as an asset that can net a good return before the trade deadline.
Jonathan Toews Will Be A Hart Trophy Finalist
You would think that after two Stanley Cup championships, a Conn Smythe Trophy win, and an Olympic gold medal, that Toews would surely have been at least a nominee for league MVP, but you would be wrong.
That changes this year, as Toews will truly emerge onto the national stage as an elite player, and will be a nominee along with Sidney Crosby of the Pittsburgh Penguins and John Tavares (our winner) of the New York Islanders.
Patrick Sharp Will be Named to Team Canada
Team Canada is loaded with tremendous forwards, but our prediction is that Sharp will get off to a hot enough start that head coach Mike Babcock and GM Steve Yzerman will be compelled to give him a call to compete with the Canadian contingent in Sochi.
Patrick Kane and Team USA Will Win Gold in Sochi
This isn't necessarily a Blackhawks-specific prediction, but it seems right to use it on this list anyway considering that it was Toews and Team Canada that beat Kane and Team USA in the final game of the 2010 Olympics in Vancouver.
This time though, with Kane's emergence as a bonafide superstar in the league, and the stacked goaltending and forward depth that Team USA has, we are saying they will win it all in 2014, and Kane and maybe even guys like Brandon Saad and Nick Leddy will have gold medals draped around their necks.