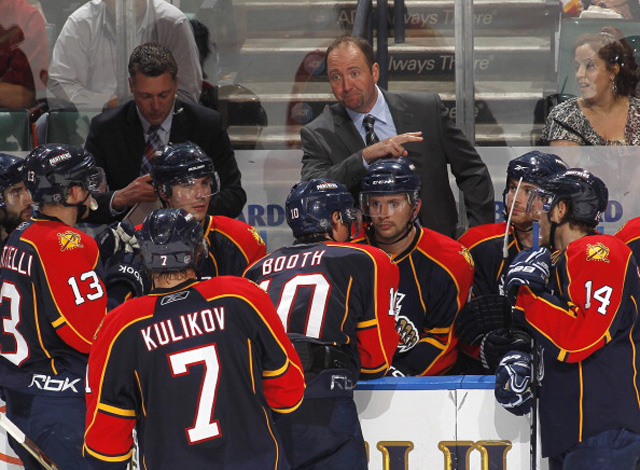 The Panthers this season stink like pure gasoline.

I know I'm supposed to dress this up in some way, but I'll keep returning to the same conclusion: The Panthers are just not a very good team.

And yet, we can point to a couple things they do well. They're in the top half of the league in goals, mostly due to some excellent goaltending from both Tomas Vokoun (who starts tonight) and backup Scott Clemmensen. Both have SV%'s over .915 and that's with seeing more rubber than the Michelin Man. Did that make any sense? Even if it did it was pretty lame, right? You know what, come back to me and I'll get something better.
One player to keep an eye on is defenseman Dimitry Kulikov.
He was Florida's 1st round pick last year and is taking a big leap forward this season. He's somehow a +6 on a team that can't score and has 21 points even though this power play is a dead, bloated fish. That's not easy to do for a d-man when you're gathering all your points at even-strength. After him though are a bunch of guys I've never heard of, and that's saying something. Clearly GM Dale Tallon is stripping this one down for parts and starting over.
Up front, everything is being built around David Booth and Stephen Weiss.
Booth would have been on the US Olympic team if Mike Richards hadn't sent him to the land of the jockeys with a blindside hit before the tournament, and he's a pretty nifty winger. But a -21 would hint at some defensive "indifference" if not outright distaste. Weiss is a gifted playmaker who would one day benefit from playing with someone who can actually stand on skates in addition to Booth. But keep these two from going off, and you're probably in the clear.
However, the Hawks have done this drill before and should know that they're going to see a team giving its all tonight.
Not only are they hosting the champs and the hottest team in hockey, but the Cats have lost seven of eight and probably want to put an end to that. Fear of embarrassment can be a powerful motivator. With the Lightning up next, the Hawks can't get caught looking ahead or taking the night off. They don't have to be at top gear to win this, but they do have to at least be bothered.
...more rubber than a Sex Ed class? No, that doesn't work either. OK, I'll keep trying.