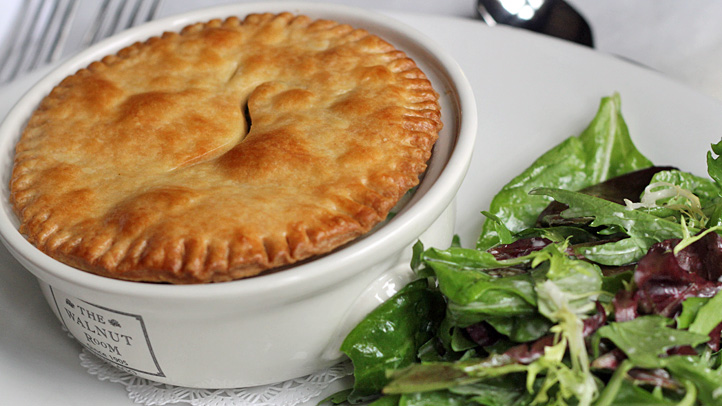 Hard-core Marshall Fields' loyalists may smell a conspiracy, but Macy's has made changes to its famous chicken pot pie recipe.

The dish dates back to 1890 when a store clerk named Mrs. Hering began selling the pies to her customers. Since then, it's become a culinary tradition in its own right, and during the 2010 holiday season the Walnut Room at Macy's on State Street served up an average of 600 pot pies per day.

The pie has undergone minor changes over the years, but Macy's Culinary Council decided on the latest iteration in order to bring it closer to the original recipe.

The first difference you'll notice is visual. The pie is now served in a signature bowl, instead of a regular plate.

The puff pastry top is now gone, replaced with a pie crust, which is closer to what Mrs. Hering used, according to Macy's officials.

As for the filling, the new pie uses more locally-sourced ingredients, and instead of cooking the vegetables in large batches in one pot, they're now sautéed beforehand, and then added to the mix.

The pot pie's price remains the same, $10.95.

Sometime's change just tastes good.

Click here for the recipe to Mrs. Hering's Famous Chicken Pot Pie.