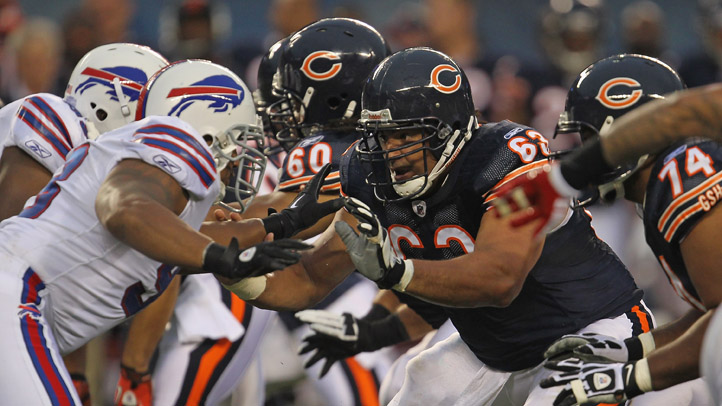 The Bears have been busy during the 2012 free agency season, but one area they've barely touched is the offensive line. Aside from cutting Frank Omiyale, the Bears haven't bolstered the unit that gave up 49 sacks in 2011.

Lovie Smith even threw his support behind the offensive line.
"We like the group of offensive linemen we have right now, with what we're going to do with them, we think we can be very successful with them," Smith said. "With that said, you're always - right up until the opening week - if there's someone who can improve us we're going to look at it seriously."
Chicago lost Gabe Carimi and Chris Williams to injury in 2011 and both are expected to be ready for the 2012 season. In effect, the Bears will gain two linemen whom they are already paying. Though he's expected to be slotted in the right tackle position again, Carimi can play both right and left tackle and Williams has experience at center and guard.
One would think that the Bears would want to upgrade this pourous, sack-a-minute line before putting too much emphasis on things like backup quarterback, but, nah.
The number of sacks is deceiving. In six games without Jay Cutler, the line gave up 26 sacks. In 10 with him, they gave up 23. When working with a quarterback who trusted them and who could get rid of the ball reasonably quickly, they held. This line also helped Matt Forte to another productive season -- he gained 997 yards in 12 games. The Bears were ranked ninth in the league in running yards behind this line, even with Forte out for the last four games of the season.
Chicago's line could use continuity more than anything. Though the line has been horrendous in the past, they're not the same line who fell apart in season's past.
Copyright FREEL - NBC Local Media