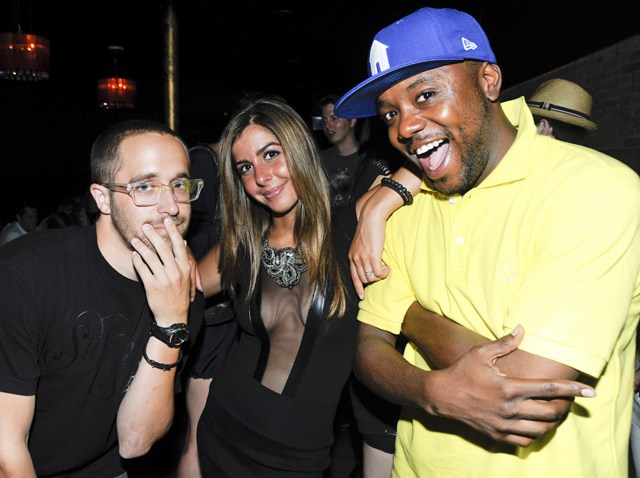 Even if you don't have a ticket for Lollapalooza, that doesn't mean you can't rock out. Lolla veterans know that the real parties go down after hours.

Lollapalooza founder Perry Farrell is hosting an official Lollapalooza after party on August 6th at Spybar. Farrell's wife, Etty, and Chris Cox will take over the decks at 11:30 p.m. The two are also performing at the festival.

Angels & Kings Chicago will be a hot spot all weekend long. Expect plenty of star sightings, with the VIP Lounge located upstairs at the Hard Rock Hotel. But if you don't got it like that, hang out in AK on the lobby level August 5-7 with DJ sets by ?uestlovem Pete Wentz and a performance by Wentz' new band Black Cards.

Chicago band Kids These Days are making a name for themselves in the industry and in addition to a Lollapalooza set, they'll be performing August 5 at the Music Blogger's Association of America's Lollapalooza after-party at the River East Art Center. Chicago's band Hey Champ will also perform. Tickets are $35 and can be purchase here.
The 605 N. Michigan GUESS store is also getting into the musical spirit on August 4th with an acoustic performance by Dale Earnhardt Jr. Jr., who is also performing at the festival. The 6-8 p.m. event is open to the public and will also feature a DJ set by English indie rock band the Vaccines, who are also playing Lolla.

The Underground goes into full Lolla mode this weekend with a series of events Thursday through Sunday. Rappers Chiddy Bang and Chet Haze (Tom Hanks' son) perform on Thursday night, and Friday and Saturday brings high-profile DJs and "suprise, legendary guest hosts."

Playboy Playmates such as Chicago's Crystal McCahill are hosting a Midnight Lollapalooza After Party Cruise on August 6th. The party on Navy Pier's Anita Dee II includes a three-hour open bar and music from Chuckie. $95 tickets available here.

Debonair Social Club hosts three bands playing Lollapalooza on Thursday through Saturday. Check out OK Go!, Friendly Fires and The White Lies at the Wicker Park club, along with a host of other bands and DJs.

HUB 51, Paris Club and the uber-hot Studio Paris hosts "Late Night Lolla" Thursday through Sunday night. Each spot will host a special DJ each night, with names such as DJ Mr. Best and DJ Spider taking turns on the decks.

In short, you only have yourself to blame if you can't find a party to your liking this weekend. Several of the bands and artists will also be performing at spots like Lincoln Hall, Empty Bottle and Metro. Click here to check out our list of Lolla after-parties.