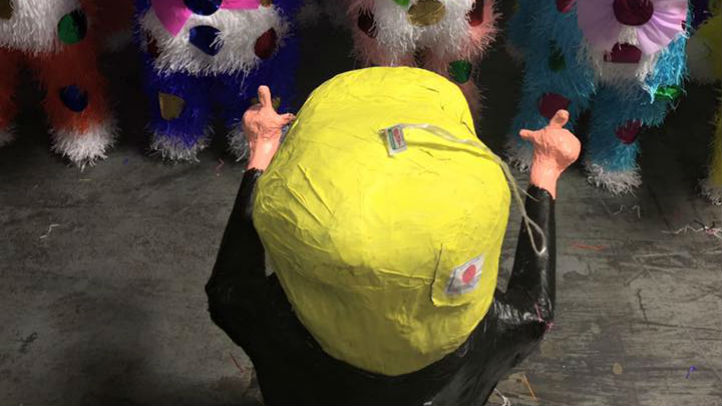 A Mexican candy store chain in Chicago is selling a new pinata inspired by the upcoming election and it bears a striking resemblance to a certain presidential candidate.
Dulcelandia began selling its so-called "politician pinata" last week ahead of the 2016 election and Fourth of July weekend.
"Children AND adults can enjoy beating this pinata up," the chain wrote on Facebook.
The "politician pinata" is a man in a suit with blonde hair, looking an awful lot like Donald Trump. The company even posted about the piñata with the quote "I will build the greatest wall ever known."
In honor of the upcoming Republican National Convention, they have also displayed a series of colorful elephant pinatas.
According to Eve Rodriguez Montoya, the vice president of marketing and branding for Dulcelandia, the pinata was designed after numerous customer requests.
"We were receiving a lot of requests for a pinata that reflected the current election cycle so that's kind of our inspiration behind the politician pinata," she said, adding that the pinata has been very popular since making its debut and is "moving pretty steadily at all four store locations" in Chicago.
Rodriguez Montoya said the company eventually plans to have an entire line of politician pinatas, but details on when more could be released weren't immediately known. The company wrote on Facebook that it is working on Hillary Clinton and Bernie Sanders pinatas.
Several other Trump pinatas have surfaced in Mexico so far this year.
Trump, the presumptive Republican nominee, has drawn harsh criticism from Mexican-Americans after proposing a 1,000-mile border wall between the U.S. and Mexico and making immigration one of the centerpieces of his campaign.
He said on the day he announced his candidacy that Mexico was sending "rapists" and "criminals" across the border.
The billionaire businessman has estimated his proposed wall would cost between $10 billion and $12 billion, and has argued that it would protect the country from illegal border crossings as well as halting drug shipments.
Mexico's President Enrique Peña Nieto has said his country will not pay for any such wall.