Election Day has arrived and that means voters are heading to the polls to cast their ballots in an historic election in the midst of a pandemic.
Cities across Illinois have been preparing for potential unrest no matter the outcomes, with the National Guard readied, businesses boarded up and police patrols heightened.
Masks, hand sanitizers and plexiglass become as commonplace as pens and "I voted" stickers as Illinois voters stare down what's being called a "second surge" of the coronavirus pandemic. Here are the latest updates in Illinois this Election Day:
7:16 a.m.: Wabash Bridge Near Trump Tower Remains Raised
The Wabash Avenue bridge remains raised Wednesday morning after city officials decided to raise it Election night in a preemptive move ward off potential unrest near Trump Tower.
The bridge was shut down "as part of a precautionary measure to ensure the safety of residents," said Mary May, spokeswoman for the Office of Emergency Management and Communications.
The bridge could be seen raised about 6:15 p.m. Tuesday. The strategy was employed multiple times this summer in attempts to keep the downtown area safe from looting during protests against police brutality and violence.
May noted the city does not plan to block off any other bridges into downtown.
"All other streets, bridges and CTA stops in the downtown area remain accessible at this time," May said. "No other bridges are expected to be out of service and there are currently no planned street closures in the downtown area."
However, the city still plans on raising each bridge from Lake Shore Drive to Ashland Avenue in succession Wednesday morning for the regularly scheduled sailboat run, starting at 9:30 a.m., May said.
1:56 a.m.: Margin Between Casten, Ives Remains Razor Thin
The margins in the race in Illinois' 6th Congressional District between freshman Democrat Rep. Sean Casten and one of two two challengers appeared to be too slim to declare a winner Tuesday night.
Casten led Republican challenger Jeanne Ives by five points, which equated to more than 17,000 votes, with Libertarian Bill Redpath earning roughly 6,000 votes, with roughly 93% of precincts reporting as of 2 a.m. Wednesday.
Those results meant NBC News had not yet made a prediction in the race.
Illinois election officials said Tuesday that they estimated somewhere between 300,000 and 400,000 remained unreturned by Election Day and could continue to arrive within the two-week window in which they can legally be counted, potentially impacting the outcome of some races.
The latest tally from state election officials showed that thousands of those ballots were in the counties in which the 6th District is located - with the possibility to sway the race.
1:47 a.m.: Race Between Underwood, Oberweis Still Too Close to Call
The race in Illinois' 14th Congressional District between Rep. Lauren Underwood, the freshman Democrat, and her Republican challenger Jim Oberweis remained too close to call early Wednesday.
Oberweis led Underwood by less than 2,000 votes with 86% of precincts reporting as of 1:30 a.m. Wednesday, early election results showed, with NBC News not yet making a projection in the race.
12:48 a.m.: Illinois' Graduated Income Tax Proposal: Where Vote on Amendment Stands
The proposal on every ballot in Illinois to change the state's income tax from a flat rate to a graduated tax was trailing Tuesday night as supporters urged patience and opponents declared victory - though election officials warned in advance that its fate may not be known on election night.
Votes against the proposal were leading 55% to 45%, more than 2.5 million votes against to more than 2 million votes in favor, with 91% of precincts reporting statewide, election results showed at around 12:45 a.m. early Wednesday.
"This is a historic night for the people of Illinois," Chair of Vote Yes for Fair Tax Voters John Bouman said. "Voters from across Illinois have shown their support for both tax fairness and funding fairness, and hundreds of thousands of ballots are still outstanding. The outcome won't be known until every ballot cast is counted—including every vote at the polls today, every early in-person vote and every vote sent by mail. We are fully prepared for that process to continue into the days ahead. This is a time for everyone to focus on ensuring that every ballot cast is counted."
Still, the margin by which "No" votes was ahead led opponents of the measure to declare victory.
"When all the votes are counted, we believe there will be more 'no' votes than 'yes' votes, and that will be a win for small business owners, middle-class families, family farmers, retirees, and large employers," Lissa Druss, spokeswoman for the Coalition to Stop the Proposed Tax Hike Amendment, said in a statement. "In this election, Illinois voters sent a resounding message that with an $8 billion deficit and two massive tax hikes in the last ten years, we cannot trust Springfield Politicians with another tax hike."
11:24 p.m.: Election Officials in Battleground States Say Presidential Election Results Could Take Days to Tabulate
Election officials in several key states are still working to count ballots in the presidential race between President Donald Trump and Democratic nominee Joe Biden, and the process could take several days in some locations.
In states like Wisconsin, Michigan and Pennsylvania, votes are still being tabulated late Tuesday night and into Wednesday morning, with some mail-in and absentee ballots still waiting to be counted in those states.
Other key states, including Georgia and Arizona, remain too close to call, according to NBC News projections.
Biden is expected to address supporters on Tuesday night, as he currently holds a 205-136 lead in electoral votes, according to NBC News projections.
10:40 p.m.: Cook County State's Attorney Kim Foxx Wins Reelection in Tight Race
Cook County State's Attorney Kim Foxx has declared victory in her reelection battle with Republican Patrick O'Brien and Libertarian Brian Dennehy, capping off one of the most contentious races of the 2020 election cycle.
O'Brien called Foxx to concede in the race shortly after 10:30 p.m., according to NBC 5's Christian Farr.
Foxx was first elected in 2016, when she defeated embattled incumbent Anita Alvarez, who was under fire for her handling of the fatal police shooting of Laquan McDonald in 2014. Foxx previously served as an assistant Cook County state's attorney for 12 years, then as chief of staff for Cook County Board President Toni Preckwinkle after that.
10:23 p.m.: NBC 5's Interactive Map Breaks Down Vote Totals by County
If you're looking to see how your county voted in the presidential, Senate or House races on Tuesday night, you can check out NBC 5's interactive map for all of the latest information.
9:50 p.m.: Schakowsky, Davis Projected to Win Reelection
NBC News is projecting that Rep. Jan Schakowsky will win reelection in Illinois' 9th Congressional District, while 7th District Rep. Danny Davis will also win re-election in his race.
Schakowsky, who has been in Congress since 1999, is projected to defeat Republican challenger Sargis Sangari, while Davis is projected to beat a quartet of challengers, including Republican Craig Cameron.
9:43 p.m.: NBC News Projects Joe Biden as Winner in Illinois, Projects Sen. Dick Durbin to Win Reelection
NBC News is now projecting that former Vice President Joe Biden will capture Illinois' 20 electoral votes, holding down a key Democratic stronghold in the 2020 race.
NBC News is also projecting that Senate Minority Whip Dick Durbin will retain his seat, fending off Republican Mark Curran and independent candidate Dr. Willie Wilson.
9:34 p.m.: NBC News Projects Democrats Will Retain Control of the House of Representatives
Democrats will retain their control over the House of Representatives, NBC News is now projecting.
The party passed the 218-seat threshold after a round of poll closures just after 9 p.m., and have captured a projected 234 seats as of 10:46 p.m., NBC News projects.
That would represent a small pick-up of seats in that body, with Democrats adding to their majority in the 2020 race.
9:31 p.m.: NBC News Projects Pair of Republicans to Hold Onto House Seats
NBC News is now projecting that a pair of Illinois Republicans will be reelected to their House seats, as 16th District Rep. Adam Kinzinger and 12th District Rep. Mike Bost are both projected to win their races.
Bost, who has served in Congress since 2015, fended off a challenge from Democratic challenger Ray Lenzi. Kinzinger has served in Congress since 2011, and he defeated Democratic challenger Dani Brzozowski, as well as independents Roy Jones and Branden McCullough.
9:22 p.m.: Lightfoot Pays Tribute to Carol Marin, Discusses 2020 Election
8:57 p.m.: Election Analysis from the NBC 5 Political Team
8:51 p.m.: NBC News Calls 8th District Race for Rep. Raja Krishnamoorthi
NBC News is projecting that Rep. Raja Krishnamoorthi has won reelection to Illinois' 8th Congressional district, beating Libertarian candidate Preston Nelson.
Krishnamoorthi first won election to the House in 2017, and will now serve a third term out of the district.
8:40 p.m.:
NBC News is projecting that Republican Rep. Darin LaHood has won reelection in the state's 18th Congressional district, defeating Democratic challenger George Petrilli.
LaHood, a former State Senator, has served in the congressional district since 2015.
8:38 p.m.:
NBC News has projected that Republican nominee Mary Miller will win the election in Illinois' 15th Congressional District, beating Democratic challenger Erika Weaver in the race to replace Rep. John Shimkus.
8:31 p.m.:
NBC News is now projecting that three more incumbents are expected to hold onto their seats in the U.S. House, as Rep. Bobby Rush, Rep. Robin Kelly and Rep. Mike Quigley are all projected to win re-election to the house this evening.
Rush has served in Congress since 1993, and he'll be heading back to Washington to represent Illinois' 1st District, as he's projected to defeat challengers Philanise White and Ruth Pellegrini.
Kelly is projected by NBC News to secure a fifth term in Illinois' 2nd Congressional district, defeating Republican challenger Theresa Raborn.
Quigley had to deal with a trio of contenders, including Republican Tom Hanson, Green Party candidate Thomas Wilda and independent Frank Rowder, but he'll head back to the nation's capital for another term in the 5th District.
8:15 p.m.: Incumbent 11th District Rep. Bill Foster Retains Seat, NBC News Projects
According to NBC News projections, Democratic Rep. Bill Foster will retain his seat in Illinois' 11th Congressional district, fending off Republican challenger Rick Laib.
Foster, who has been in the House since 2013, will win a fifth term in that legislative body, easily outpacing Laib and write-in independent candidate Jon Harlson.
8:00 p.m.: Lightfoot Encourages Chicago Voters to 'Stay in Line,' Pays Tribute to NBC 5's Carol Marin
During an interview with NBC 5's Carol Marin, Chicago Mayor Lori Lightfoot encouraged voters to stay in line at the polls to ensure all votes are counted, saying she is nervous for the presidential race's outcome.
"As the polls close, the decision is in the hands of the voters," Lightfoot said.
The Chicago mayor added that President Donald Trump is a "formidable campaigner," as his base continues to support him in large crowds despite a "body of evidence that Trump has not led" the country.
She said she hopes for a win from former Vice President Joe Biden, but will continue to work with the Trump administration the best she can if the results take that turn.
Lightfoot ended the interview thanking Marin for what she has done as journalist over the years, as this broadcast could be her last.
"You're an iconic journalist who challenges all of us to be accountable and smart about current issues," Lightfoot said.
7:53 p.m.: Sen. Dick Durbin Thanks Supporters After Re-election Bid
Sen. Dick Durbin sent a message to supporters on Tuesday night, thanking them for their support in his race for reelection to the Senate.
In the statement, Durbin claimed victory in the race, although NBC News has not yet projected him to beat out Republican contender Mark Curran or independent candidate Dr. Willie Wilson.
"To those who supported my election: thank you for once again trusting me to represent you, your family and our home state of Illinois. It is an honor," Durbin said. "And for those who were on the other side, thank you for your participation in our election. I pledge that I will listen honestly to your thoughts and work with you to bind the wounds of our nation.

"Now we have work to do to vanquish this virus and rebuild our broken economy. I am ready for the challenge."
7:39 p.m.: Sen. Mitch McConnell Projected to Win Reelection in Kentucky
NBC News is projecting that Senate Majority Leader Mitch McConnell will win re-election in the state of Kentucky, beating Democratic challenger Amy McGrath.
What isn't clear at this point is whether McConnell and the Republican party will retain their control of the Senate. Several races will determine that outcome, including elections in Arizona, Georgia, North Carolina and Maine.
7 p.m. Polls Close in Most of Illinois
Polls have closed through most of the state, with 15 precincts remaining open for an extra hour in Cook County.
Several key races have attracted national attention in Illinois, including the 14th District Congressional race between Rep. Lauren Underwood and Republican challenger Jim Oberweis.
In the 6th District, Rep. Sean Casten is looking to fend off Republican challenger Jeanne Ives.
Finally, the state's vote on the Fair Tax Amendment, which would allow the state legislature to move the state to a progressive tax system, will also likely be too close to call with initial returns.
6:54 p.m.: Wabash Avenue Bridge Near Trump Tower Raised for Election Night
City officials have raised the Wabash Avenue bridge Tuesday evening in a preemptive move to ward off election-night unrest near Trump Tower.
The bridge has been shut down "as part of a precautionary measure to ensure the safety of residents," said Mary May, spokeswoman for the Office of Emergency Management and Communications.
The bridge could be seen raised about 6:15 p.m. Tuesday. The strategy was employed multiple times this summer in attempts to keep the downtown area safe from looting during protests against police brutality and violence.
6:27 p.m.: DuPage County Continues to Extend Voter Turnout Record
As of 6:15 p.m., election officials in DuPage County say that they've recorded 71% voter turnout in an election that has set a new county record for most votes cast.
According to officials, 468,316 total votes have been cast as of Tuesday evening, setting a new record for the county. Of those ballots, 114,333 were cast in-person on Tuesday, according to election officials.
Another 190,687 voters cast ballots in early in-person voting, with 163,296 voters mailing in ballots, officials said.
The early in-person voting is nearly double the number of voters who came to the polls prior to Election Day in the 2016 presidential election, according to data provided by DuPage County election officials.
6:07 p.m.: NBC News Projects President Trump to Win Indiana, Gov. Holcomb to Win Reelection
Polls have closed in Indiana, and NBC News is projecting that President Donald Trump will capture the state's 11 electoral votes in his race against Democratic nominee Joe Biden.
NBC News is also projecting that incumbent Gov. Eric Holcomb will win reelection on Tuesday night, besting a field of challengers that included Democratic nominee Woody Myers and Libertarian nominee Donald Rainwater.
6 p.m.: 15 Cook County Polling Places to Remain Open Until 8 p.m.
According to the Cook County State's Attorney's Office, more than a dozen polling places will remain open until 8 p.m. after dealing with technical issues early in the morning on Election Day.
Polls in Illinois are scheduled to close at 7 p.m., but voters in 15 different precincts will remain open for an additional hour on Tuesday night.
Alsip:
Alsip Heritage 1 Apartments, 11949 South Ridgeway (Worth Precinct 97)
Calumet City:
School District 157 Board Room, 1255 Superior Avenue (Thornton Precinct 38)
Chicago:
Central Township Medical Center, 4949 South Long Avenue (Stickney Precinct 10)
Dixmoor:
Lincoln School, 14100 Honore (Thornton Precinct 4)
Dolton:
Roosevelt School, 111 West 146th Street (Thornton Precinct 4)
Harvey:
Holmes Elementary School, 1600 Carse Avenue (Thornton Precinct 109)
Maya Angelou Elementary School, 1548 Page Avenue (Thornton Precinct 102)
Hazel Crest:
Jesse White Learning Academy, 16910 Western Avenue (Thornton Precinct 59)
Markham:
City of Markham Building, 16313 Kedzie Parkway (Bremen Precinct 21)
Maywood:
Lincoln Elementary School, 811 Chicago Avenue (Proviso Precincts 1 and 2)
Oak Lawn:
Ernest Kolb School, 9620 Normandy Avenue (Worth Precinct 21)
Orland Park:
All Saints Lutheran Church, 13350 LaGrange Road (Palos Precinct 11)
Palos Heights:
Navajo Heights School, 12401 South Oak Park Avenue (Worth Precinct 7)
Tinley Park:
Tinley Park Village Hall, 16250 Oak Park Avenue (Bremen Precinct 59)
4:50 p.m. Chicago Polling Place Moved After Sprinkler Malfunction
A polling place in Chicago's West Town neighborhood was forced to relocate Tuesday after the sprinklers in the building went off, the Chicago Board of Elections says.
According to officials, voting at James Otis School in the 500 block of North Armour Street was temporarily stopped after sprinklers inside the building went off.
Board of Elections officials say that the polling place has been moved to the Goldblatt's Building in the 1600 block of West Chicago Avenue, approximately half a mile from the school.
Election officials do not believe that water damaged any ballots in the facility, and is currently working to recover the ballots, per BOE officials.
4:25 p.m.: DuPage County Reports Record Turnout in 2020 Election
Officials in suburban DuPage County have reported 95,102 ballots have been cast as of 3:30 p.m. on Election Day, helping the county to set a new voter turnout record in this year's election.
According to county officials, a total of 449,040 ballots have been cast in all, with 190,688 votes cast in in-person early voting in the county. Another 163,251 voters cast their ballots via mail in the election, according to officials.
The nearly 450,000 ballots cast thus far are a new record for the county, according to election officials, and polls will remain open until 7 p.m., allowing for that record to be extended.
2:45 p.m.: Pritzker Issues Stern Warning to Candidates Planning to Host In-Person Election Night Events
Illinois Gov. J.B. Pritzker is urging political candidates throughout the state to avoid hosting in-person parties on Election Day, saying that those types of gatherings could cause even bigger issues for communities coping with the ongoing coronavirus pandemic.
During his daily coronavirus press briefing Tuesday, Pritzker once again urged voters to be safe as they head to the polls, but said that post-election parties could expose more people to the virus and require further mitigation efforts to help stop the spread of COVID-19.
"Local officials and local law enforcement should be standing up and enforcing rules in the state," Pritzker said. "And you know why? Because weeks from now, when people end up going to the hospital as a result of these gatherings that are being allowed and the failure of enforcement, those local officials and people who live in those areas will be coming to the state to ask us 'what we're going to do to provide hospital space when hospitals are full.'
"Of course we're going to do everything we can, but if local officials don't do their job, we're going to end up with hospitals turning people away, and that's not something I find acceptable," he added.
Most candidates throughout the state are hosting virtual events, with speeches livestreaming on their Facebook pages or via other websites.
Pritzker says that those types of events should be encouraged, and that his main goal is to help the state curb infections as coronavirus case numbers and positivity rates continue to climb.
"That is why people all across the state need to stand up and make sure they're doing everything they can to enforce the rules here so that we don't end up with a terrible nightmare of a healthcare situation," he said.
2:30 p.m.: Pritzker Says He's 'Optimistic' About the Results of Illinois' Potential Graduated Income Tax Amendment
Gov. J.B. Pritzker said he is optimistic about the results of Illinois' potential graduated income tax amendment seen on ballots across the state this election.
During his daily coronavirus briefing Tuesday, Pritzker said he will be following the results, but is confident in the outcome of his proposed progressive tax amendment to the Illinois constitution.
However, the governor said Illinoisans may not have results Tuesday night, as there is a specific method of calculating that could give the final tally by the end of the week.
Pritzker reminded that the "options for Illinois without the fair tax are not good," citing possible financial cuts in areas such as public safety, education and human services, which are cause for concern amid the growing pandemic.
A graduated income tax, also called a progressive tax, is a tax structure that levies increasingly higher tax rates on higher-earning individuals or businesses. A binding vote to shift Illinois to this structure is on ballots statewide in the general election, with aggressive campaigns on airwaves around the state both for and against its passage.
Read more here.
2 p.m.: Chicago Voting Numbers Updated
12 p.m.: DuPage County Reports 65% Voter Turnout
According to numbers released by the DuPage County Clerk, more than 70,000 votes were cast in the suburban county by noon Tuesday and more than 400,000 votes have been submitted so far this election, a 65% turnout. There are 652,895 registered voters in the county.
DuPage County reported 190,688 early votes, well above the 108,902 voters reported in 2016, though the county noted that in previous elections, early voting location statistics did not include "in-person absentee."
In all of 2016, the county reported 434,050 ballots cast out of 614,752 registered voters, for a 70.6% voter turnout.
11 a.m.: No Polling Places to Stay Open Late in Chicago, Nearly 30K Ballots Cast in First Hour
Chicago Board of Elections spokesman Jim Allen said 29,500 ballots were cast in the first hour of voting Tuesday. As of just before 11 a.m., 916,423 ballots had been cast either in-person or by mail.
Though some polling locations did report delayed openings, Allen said none will require precincts to remain open late.
While several issues remain under investigation from the board, Allen did provide some details on a few reported incidents in the. city.
Several voters reported that sharpies were bleeding through ballots, but Allen said one bleed-through on the front will not hit a target on the back. He acknowledged the need for some scanners to be replaced and the occasional equipment issue to be fixed.
10:30 a.m.: Aurora Police Say They Are Prepared, But Have No Specific Information 'Leading Us to Believe Civil Unrest is Imminent'
Aurora police wrote on Facebook Tuesday that they received multiple inquiries from residents "expressing concerns about potential civil unrest surrounding the election."
The department noted that is in prepared should any incidents arise, but that it has "no specific information leading us to believe civil unrest is imminent or even likely."
See their full post below:
10 a.m.: Illinois State Board of Elections Says Website Back Up
The Illinois State Board of Elections says its website was down "briefly," but as of 10 a.m. is "back up and running."
9:40 a.m.: Chicago Board of Elections Releases Latest Numbers
In Chicago, 364,649 voters cast their ballots in person as of 6 p.m. Monday, according to totals released by the Chicago Board of Elections Tuesday morning.
As of 8 p.m. Monday, 419,549 mail-in ballots had been received.
8 a.m.: Excitement at Chicago's Newest Voting Super Site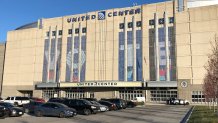 7:50 a.m. Police Receive Multiple 'Service Calls' on Election Day Morning
Chicago police said they received calls from multiple locations in the city.
According to the department, a man called the department stating a group of people got out a vehicle and began hitting his car with baseball bats near a polling site in the 3100 block of West Columbus. The man left the site and police said he did not file a report on the incident.
A worker at a polling station in the 3200 block of South Calumet called police saying she was being yelled at by an unknown man. Police said the worker did not file a report on the incident.
The department noted that service call records are based on "preliminary information only" and are subject to change.
7:10 a.m.: State Board of Elections Says Early Voting and Vote By Mail Numbers at 40% Ahead of Election Day
6:50 a.m.: Here is the Line at United Center for Election Day Voting
6:40 a.m.: Cook County Clerk Investigating Report of Issue at Wheeling Polling Place
Cook County Clerk Karen Yarborough says her staff is looking into a report of polling place issue in Wheeling.
6 a.m.: Polls Open Across Illinois
Polls opened across Illinois Tuesday morning, marking the start of an Election Day unlike any other in American history.
In the midst of the coronavirus pandemic, voters will head to the polls to cast their ballots, the final day to do so following record-breaking early voting numbers.
Even if those interested in voting aren't registered, they can still cast ballots. Under Illinois law, those interested in voting can go to their polling place on Election Day for same-day registration.
For those residents who have mail-in ballots that they were unable to return, they can bring those ballots to their polling places for drop-off on Election Day.
Even with all of the different ways to cast ballots in this election, election officials say voters should still expect vote counting to proceed in a similar fashion to previous years. Results should start to filter out in the hours immediately after the polls close at 7 p.m., with approximately 90% of results expected in by 10 p.m.
Early Voting Ends With Record Numbers
The city of Chicago saw record early voting this year, with more than 738,000 residents casting votes via mail-in ballot or in-person voting in the days ahead of Election Day.
"Early turnout has been incredible. We're so excited so many Chicagoans are exercising their right to vote," Chicago Board of Elections Chairwoman Marisel Hernandez said.
At the state level, nearly 3.6 million votes have already been cast, with more than 1.76 million ballots mailed in to election authorities. Both of those are records, according to state election officials. The state has also set a record for registered voters, with more than 8.3 million residents having registered to vote in the current election.
National Guard in 'State of Readiness' Ahead of Possible Election Day Unrest: Pritzker
As the nation prepares for Election Day and the possibility of civil unrest in the following days, the Illinois National Guard is in a "state of readiness" and prepared to respond to communities throughout the state, Gov. J.B. Pritzker said.
On Monday afternoon, an NBC 5 photographer captured what appeared to be Illinois National Guard vehicles pulling into Chicago's McCormick Place.
In a statement, a spokesperson for the Illinois National Guard said the agency won't "discuss the specifics of troop movements or future plans out of concern for the safety of the troops involved."
"Obviously, people can see Illinois National Guard trucks and troops moving," said Barb Wilson, with the Illinois National Guard public affairs office. "This is to be ready to respond if needed, but we have not been given any missions. We, along with most other Illinoisans and Americans, hope we are not needed."
According to a tweet issued Monday afternoon from Chicago's Office of Emergency Management and Communications, the city of Chicago has not made calls to deploy the National Guard in the city.
While personnel are being stationed at McCormick Place to respond if needed, the tweet stated, there are no current plans for deployment.
With the possibility of protests and violence, at least 10 states have activated the National Guard, the New York Times reported.
Stores Begin Boarding Up Windows as City Braces for Potential Election Day Unrest
Several stores in downtown Chicago have started boarding up windows as the city braces for potential protests or unrest on or after Election Day.
In addition to increased police patrols, the city is prepared to deploy anywhere from 60 to 300 "infrastructure assets" in the event of a public safety emergency, according to the city's Mayor Lori Lightfoot. Lightfoot said those assets, which include trucks from the Department of Streets and Sanitation and the water department, would be used "to protect neighborhood and commercial corridors and critical businesses."
In the event of large demonstrations, the city plans to alert businesses through its emergency alert system. Chicago police also set up "business hotlines" in 22 districts where business owners "can call if they are concerned about their safety."
In preparation for potential unrest leading up to and following Tuesday's general election, Macy's State Street has boarded up windows at the iconic location.
In a statement, a Macy's spokeswoman confirmed that "out of an abundance of caution", the company is "implementing additional security measures at several of our stores, including Macy's State Street."
Several other stores in downtown Chicago were seen with boards covering windows, include Jimmy Choo, Escada, Tory Burch and Windy City Diamonds, among others.
Lightfoot cautioned that businesses are being hit exceptionally hard by the coronavirus pandemic, particularly as new restrictions begin in the city Friday, and additional challenges could force many out of business.
"We have to be in this together," she said. "But we also have to support each other and we have to particularly support our businesses, our small neighborhood businesses in particular, and I want to make sure that whatever it is people choose to express, that they honor their neighbors, who have sacrificed so much to get to the place that they can even open up a business and have sacrificed even more in this incredibly difficult year."
Lightfoot urged residents to remain calm "no matter the outcomes" of the elections.
"In this city we have a long history of peaceful protests," she said. "Let's honor that legacy in the days to come. We need to de-escalate from this long, difficult year. And as I said, I know that emotions are already high. There's a lot of apprehension that might happen next Tuesday. But please, I call upon each of you to channel your emotions into peaceful productive means of expression. We should be a model for the nation."