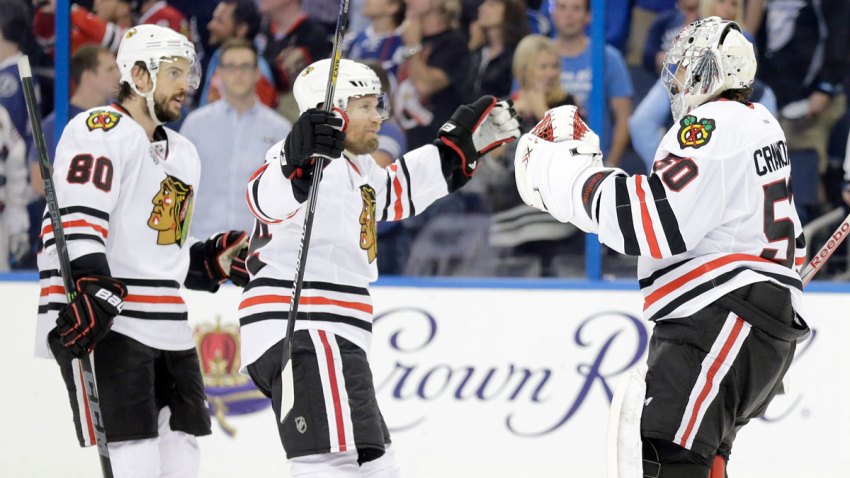 The Chicago Blackhawks are trying to make history on Monday night at the United Center, but before they take the ice against the Tampa Bay Lightning in an attempt to secure their third championship in six seasons, we have six players for fans to keep an eye on in Game 6 of the Stanley Cup Final.
Corey Crawford
Ever since he was chased out of the net by the Nashville Predators after Game 2 of the teams' first round series, Crawford has been a different player. His numbers for the playoffs are Conn Smythe-worthy, with a 12-6-1 record and a 2.42 goals against average, and another strong performance out of him tonight could secure his second Stanley Cup ring and further cement his status as one of the best goaltenders in franchise history.
Patrick Kane
Kane has been held in check throughout this series, with just one assist to his credit in the first five games of the series. A breakout game in Game 6 tonight would be appropriate, as #88 could help the Blackhawks finish off their 88th season on a high note.
Duncan Keith
Keith is unquestionably the favorite to win the Conn Smythe Trophy if the Blackhawks hoist the Stanley Cup on Monday night, and a big game would be a really nice thing for him to have. After all, the Blackhawks are 11-2 in this postseason when Keith notches at least one point.
Johnny Oduya
Dealing with an upper body injury, Oduya looked as though two days of rest before Game 5 did him some good. He has been a huge part of the Blackhawks' success so far in the playoffs, and with the postseason nearing an end, expect him to continue to rack up minutes for the Blackhawks in this game.
Patrick Sharp
Sharp ended a 13-game goalless drought on Saturday night in the Hawks' 2-1 victory over the Lightning, but his production can't end there. The Blackhawks have been able to take advantage of their forward depth throughout this series, but a big game out of the first line could make the difference between ending the season tonight or having to go to Tampa for a do-or-die Game 7 on Wednesday night.
Kris Versteeg
Speaking of that forward depth, Versteeg has been an absolute monster since he returned to the lineup in Game 4 of this series. He has infused the team's bottom six forwards with new life, and with his fresh legs and ability to get around defenders, he could be just what the doctor ordered as the Hawks look to wrap up the series.