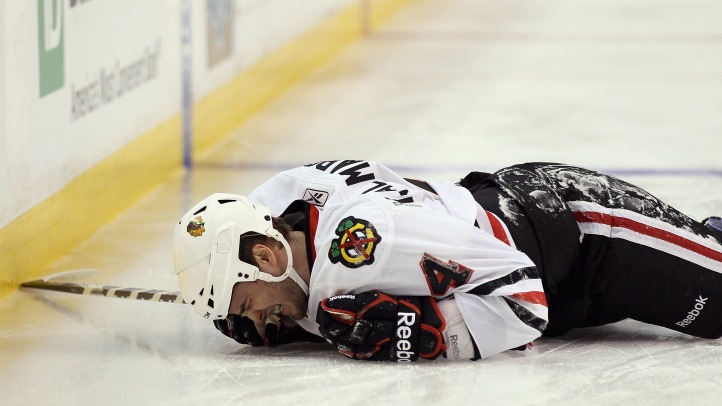 Maybe the Hawks can only do it when they absolutely have to. Or maybe they can't do it at all. And it's the latter that should have Hawks fans in cold sweats right now.
With Dallas winning Sunday night, the Hawks need to find six points in their next four games to be assured of a playoff spot, though that number goes down if the Stars should drop any points in their remaining four games. But that looks unlikely as the four left for Dallas are against the helpless and defenseless Blue Jackets, Avalanche (twice) and Wild. One should just assume that they'll get all eight. The Hawks need only four points to eliminate the Flames, who only have two games left.
But that's future stuff, and we need to focus on Sunday's abysmal evening. There is no reason the Hawks should have been shut out by the definition of ordinary Mike Smith. But they didn't want to make life hard for him. The Lightning predicate themselves on making it tough to get to the crease and screen their goalie or collect the rebounds he left lying around. You have to want to get there more, and the Hawks didn't.
That's when they even had a shooting opportunity, which they cost themselves tons of by trying to get cute at the Lightning blue line. This 1-3-1 system coach Guy Boucher employs is specifically designed to keep you from carrying the puck in. The Hawks still think they're system-proof, and they're not.

They continually tried either to make fancy plays entering the zone which were laughably swallowed up, or turning back in the neutral zone to try again to carry in the puck. It wasn't available on the second attempt either. Rarely did they just try to chip it behind the bank of three and try and beat the one guy back to the loose puck. Maybe they don't have the horses for that anymore, but it would be nice if they tried.
And all their warts were there to see. The supporting cast couldn't produce anything when their stars couldn't carry them, and their stars weren't up to the task when there was no alternative. Don't be fooled by the shot differential. A great majority of the Hawks shots were from the perimeter carrying little threat. The Hawks wouldn't, or more likely couldn't, do the things to score in games this tight -- as they all are this time of year.
It does not bode for a happy ending.