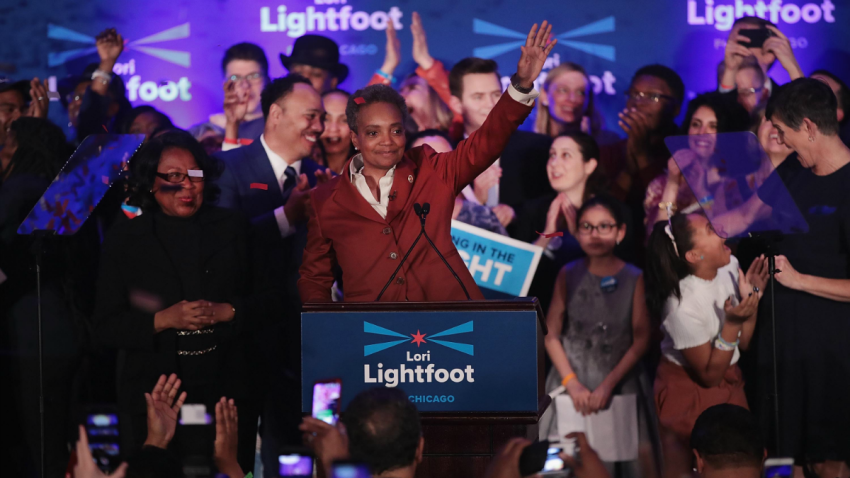 Chicago will soon have a new leader - the city's first-ever black female mayor and its first openly-LGBTQ mayor - in Lori Lightfoot. Lightfoot will take office at her inauguration on Monday. Here's what you need to know about the big event:
When is Lightfoot's inauguration?
Lightfoot is scheduled to be inaugurated on Monday, May 20. Doors open at 8 a.m. CST, the event begins at 10 a.m. and the official swearing-in ceremony begins at 10:30 a.m.
Where is Lightfoot's inauguration?
Lightfoot's inauguration ceremony will take place at Wintrust Arena, located at 200 E. Cermak Rd. in the city's South Loop neighborhood. [[509774322, C]]
Who else will be inaugurated?
In addition to Lightfoot, Chicago Treasurer-elect Melissa Conyears-Ervin and City Clerk Anna Valencia will be sworn into office during Monday's inauguration, marking the first time all three citywide elected positions will be held by women of color. All 50 members of Chicago's City Council - some returning, some fresh faces - will be inaugurated during Monday's ceremony as well.
Will there be performances?
Miguel Cervantes of Chicago's "Hamilton," the Chicago Sinfonietta, the Puerto Rican Arts Alliance and Latin Music Program, the Chicago Gay Men's Chorus and the After School Matters Choir are among the performers in the program, according to Lightfoot's website, which says the "complete schedule of performances and participants will be announced soon." [[509721892, C]]
How can I get tickets to the inauguration?
Lightfoot's inauguration is free and open to the public, but in order to attend, you have to register for tickets on Lightfoot's website. As of Monday morning, the first-come, first-serve tickets were no longer guaranteed due to "an overwhelming response and space limitations" and the sign-up is only for the event's wait list, tickets that the site says may have an obstructed view.
How can I watch the inauguration live?
If you can't get tickets or can't attend the inauguration ceremony in person, you can watch the entire event live on NBC 5, nbcchicago.com, Telemundo Chicago, telemundochicago.com and both the NBC 5 and Telemundo Chicago apps. [[509405542, C]]
Are there any other inauguration events?
The inauguration event is scheduled to end at 11:45 a.m. Then in the afternoon, Lightfoot and her wife Amy Eshleman plan to host an open house from 2 to 4 p.m. at the mayor's office on the fifth floor of City Hall, located at 121 N. LaSalle St. in the Loop. The open house is open to the public and no tickets are required. Lightfoot's camp says more events throughout the weekend will also be announced shortly.