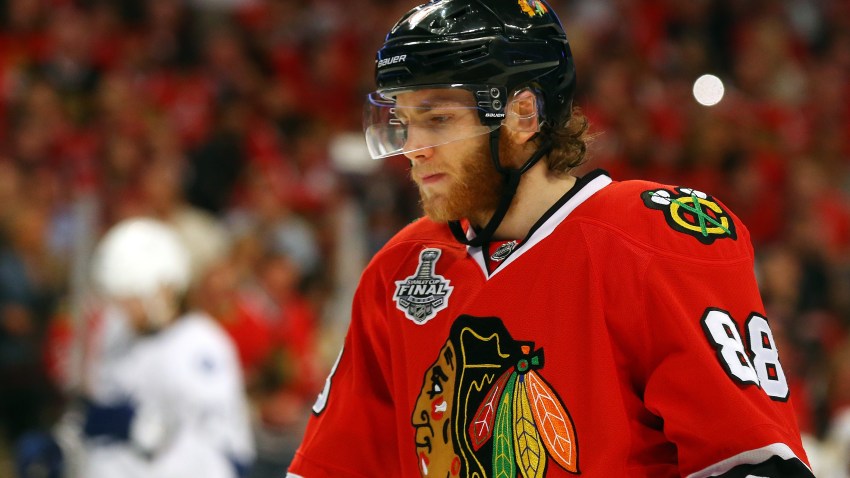 Editor's Note: NBC 5 will host a live stream of the news conference here at 12 p.m. CDT
Lawyers for the woman reportedly alleging she was assaulted by Patrick Kane are scheduled to hold a news conference Wednesday to address recent leaks and rumors in the case, according NBC Buffalo affiliate WGRZ.
The conference will be held at noon CDT, according to the WGRZ report.
The announcement comes days after reports surfaced detailing results from a rape kit conducted during the investigation. Those reports claimed no trace of Kane's DNA was found on his accuser's genitals or undergarments.
Kane was back on home ice Tuesday night when the Blackhawks played the Detroit Red Wings in a pre-season game.
Before the game, the winger spoke about what it's like to return to play for Chicago fans during the time of intense scrutiny.
"Driving in I saw some #88 jerseys walking into the building and things like that so it's pretty cool to see," Kane said.
"I think the fans have always been great here, but especially the fact that in this last week or whatever it has been," Kane said. "You know, the support has been great. It's kind of what you'd come to expect from Chicago fans so it's exciting."
The Buffalo News, citing four sources familiar with the case, including a law enforcement source, first reported the investigation's DNA results, noting that Kane's DNA was found on the alleged victim's shoulder and under her fingernails, but not on her genitals or undergarments. A source also confirmed the results to the Chicago Sun-Times.
Legal experts told the Buffalo News that the lack of DNA evidence does not necessarily mean an assault didn't occur.
Several media outlets in Buffalo have reported that a woman accused Kane of sexually assaulting her at his home last month, but the Hamburg Police Department will only confirm that they are investigating an alleged incident at Kane's home.
Erie County prosecutors reportedly postponed grand jury proceedings involving the investigation earlier this month.
Kane has not been charged with any crime and District Attorney Frank Sedita and police have not disclosed details of the case since announcing their investigation last month.
Kane addressed the investigation Thursday during his first public appearance since the allegations first surfaced saying he's confident he will be "absolved."
"I cannot apologize enough for the distraction this has caused my family, my teammates, this incredible organization, and of course our fans," Kane said during a press conference at the University of Notre Dame. "While I have too much respect for the legal process to comment on an ongoing matter, I am confident that once all the facts are brought to light I will be absolved."
While there have been reports of settlement talks between the two sides, Kane's attorney told NBC Chicago those reports are "false" and said he is not working with the alleged accuser's lawyers.
Kane's attorney did not immediately respond to NBC Chicago's request for comment surrounding the reported DNA results.