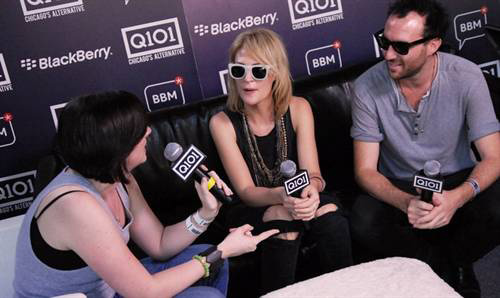 Modern rock fans will soon have one less option on the radio dial.

WKQX-FM (101.1), better known as Q101, is expected to switch over to an all-news format on Friday.

Merlin Media -- a company headed by the colorful Randy Michaels who resigned from the Tribune company under controversial circumstances -- is the new owner of the station, and the driver behind the change in formats.

Evening host Tim Pogo says the staff was told several weeks ago that a sale was being discussed, but didn't get the final word until Monday. All of the on-air staff is losing their jobs.

"I feel bad for the people who have listened to this for nearly 20 years," Pogo said. "The saddest thing is that this format is going away everywhere, all over the country, and that's the weird thing, because you see these bands sell out venues all the time, so why can't you keep that radio format viable?

Meanwhile, Q101 fans are mourning the demise of the station.

"The best radio station of the last 20 years is going off the air. There's no alternative music option," Glen Ellyn's Jim Donato said.

"I grew up loving Q101. I really did. I'm bummed about it," said Jason Maxwell of Claredon Hills. "I don't think there's going to be a good station to replace it."

The move is causing a chain reaction in the Chicago radio world. Media critic Robert Feder reported via his Twitter feed Thursday morning that CBS Radio is expected to announce that it will start simulcasting Newsradio 780 on 105.9 FM in response to Q101's change in formats.