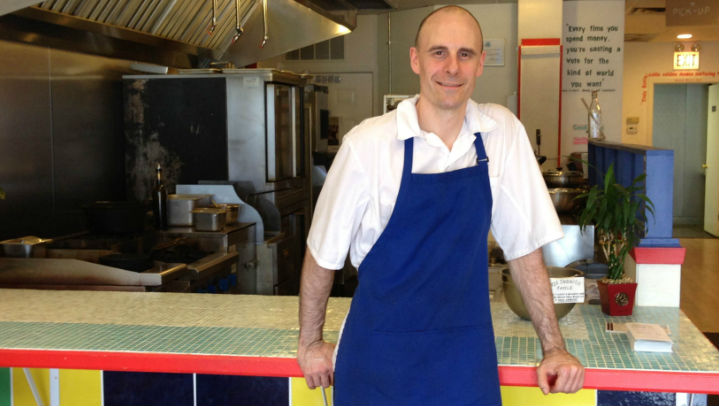 Anthony Ponce anchors the weekend morning news for NBC Chicago. Follow him on Twitter or Facebook.
At first glance, 'Sandwich Me In' appears to be an average quick-serve lunch spot with a solid menu. But within seconds of talking to chef and owner Justin Vrany, a customer can quickly learn this place is anything but average.
That is why I have been there almost every week for the past two months. The entire operation—from the food, to the furniture, to the power supply—leaves an almost negligible carbon footprint.
"Since we opened last May, we've only had 8 gallons of garbage go to the dump," said Vrany. "Everything in-house is reused. All the equipment and furniture is from other restaurants, or thrift stores."
Vrany says the bulk of those 8 gallons consists of used coffee cups left by customers that can't be recycled.
Everything is eco-friendly down to the paint on the wall, which generates zero VOCs (volatile organic compounds) into the atmosphere. Vrany also runs the restaurant on 100% renewable energy by purchasing renewable energy credits, and he has a strict water-use policy.
So how has he managed to generate such a miniscule amount of garbage? A combination of recycling, composting, and thoughtful operating procedure.
For example, meals are served on sheets of eco-friendly paper, dishes and silverware are washed and reused, and you won't find any disposable plates or cups there.
"For about 10 years, I researched everything that was going into our food and when I decided to open this place, I knew I wanted to have a sustainable, local restaurant, where the food was fresh and high-quality, but was at a reasonable price," Vrany said.
It's not a wimpy menu, either. My personal go-to sandwich is the BBQ pulled pork ($8) but next time I go in, I'm getting the fried egg BLT ($8).
Vegetarians can't go wrong with the Portabella Mushroom Sandwich or the Black Bean Burger.
Almost all the ingredients are local.
The beef comes from a ranch outside of Marengo, Ill.; the pork, chicken, and turkey come from Gunthorp Farms in LaGrange, Ind.; and the veggies, dairy, and fruit come from a local farm Co-Op called Farm Logistics.
Vrany bakes all his bread in-house.
Despite the green business model, Vrany says convincing locals to choose Sandwich Me In, located at 3037 N. Clark Street, over other, quicker options in Lake View continues to be a challenge.
"Chicago is slowly moving towards it. It's just getting the public aware of it," he said. "Once big-time corporations and media realize this is where Chicago is moving, it will become more popular. Knowledge is the battle."