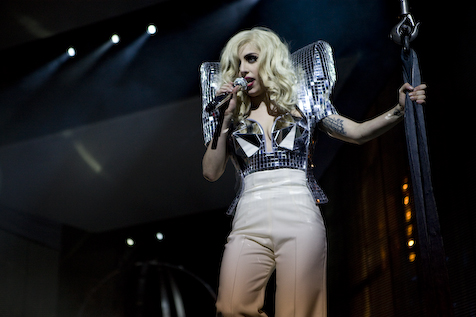 There are more unhappy little monsters running around.

Hours after calling off a concert at Purdue University because of an undisclosed illness, Pop star Lady Gaga took to Oprah Winfrey's stage.

The singer showed no apparent signs of illness as she performed a medley of her hits on the live show Friday. She wore a black outfit studded with spikes and, at one point, swung a gold, spiked ball on a chain into the windshield of a taxi on the stage.

Thursday night's cancellation of "The Monster Ball" was announced after opening acts Jason Derulo and Semi Precious Weapons had already performed.

A statement released by the school from Lady Gaga's tour management said she'd suffered a sudden illness and that medical personnel had advised her not to perform.

Shortly after the cancellation, Lady Gaga said she was "devastated" about the cancellation in a series of messages to her fans on Twitter:
"I've been crying for hours, I feel like I let my fans down 2nite. An hour before the show, I was feeling dizzy and having trouble breathing"

"Paramedics came to take care of me, and told me my heart-rate was irregular-- a result of exhaustion and dehydration."

"can't apologize enough for how sorry I am. I could hear my fans cheering from my dressing room, I begged everyone to let me go onstage."

"My stage has complicated mechanical elements,everyone was concerned I'd be in danger during the 2hr show, since I had passed out earlier."

"I am so devastated. I have performed with the flu, a cold, strep throat: I would never cancel a show just based on discomfort."

"I hope you can forgive me. I love my little monsters more than anything, you are everything to me. I will make-up the performance on Jan 26."
The pop diva so far has not tweeted about her performance on the Oprah show or the ensuing controversy, but her fans have.

Fans in Chicago and Detroit weren't gaga over this month's venue changes in those cities, which caused some ticket-holders to lose out on seats.

Lady Gaga's performance at Purdue has been rescheduled for Jan. 26.
Copyright AP - Associated Press