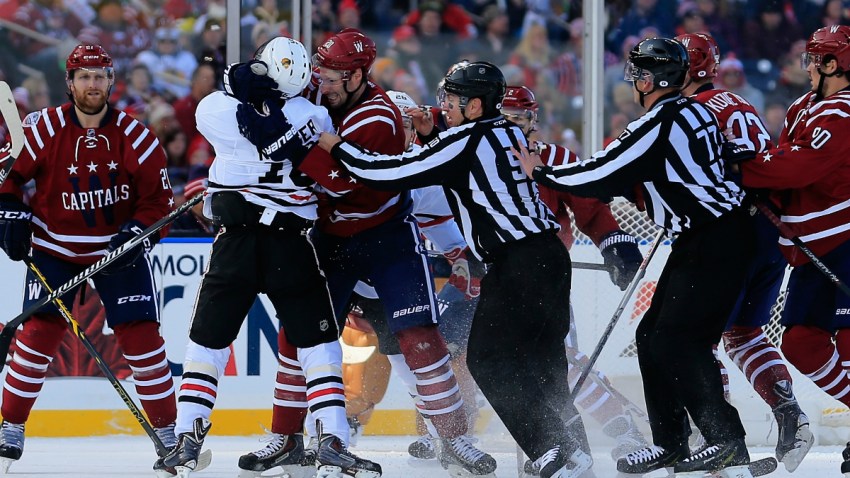 The Chicago Blackhawks will debut at least two of their new acquisitions on Sunday morning, as Andrew Ladd and Tomas Fleischmann take the ice with the team as they take on the Washington Capitals.
Ladd, whom the Blackhawks acquired in a trade Thursday with the Winnipeg Jets, will play on the first line with Jonathan Toews and Andrew Shaw, while Fleischmann, acquired from the Montreal Canadiens on Friday, will skate on the third line with Andrew Desjardins and Teuvo Teravainen.
The team made a slew of moves over the course of a two-day span, with Ladd and Fleischmann coming aboard in separate trades. The team also acquired Christian Ehrhoff and Dale Weise amid Stan Bowman's maneuvers, but it's unclear if either player will join their counterparts in making their Blackhawks' debuts on Sunday.
Whatever the mix ends up being for the team's lineup, going up against Washington will be a stern test. Led by one of the league's best goaltenders in Braden Holtby, the team is lapping the field in terms of goal differential this year, combining a solid defense with one of the most explosive offenses the NHL has seen.
Alex Ovechkin has been on fire in recent weeks, pumping his goal total up to 40 with a power play goal in the Capitals' win over the Minnesota Wild on Friday night. Players like Evgeny Kuznetsov and Nicklas Backstrom have also been instrumental in Washington's offensive explosion, and the team has a total of six players with at least 17 goals on the season.
For the Blackhawks, they'll not only have a tough time playing defense against a talented offensive group, but they'll have to deal with all of the issues that bringing aboard new players causes. Ladd has had a solid season for the Winnipeg Jets, but will he fit in on the top line? Will Fleischmann, who has 10 goals on the season, be able to open up some ice for Teravainen to do his thing?
These questions will be answered over the final quarter of Chicago's season, and it all starts on Sunday afternoon at the United Center. The Blackhawks have made a series of moves to shore up their depth and put themselves in position to win a fourth Stanley Cup championship in seven seasons, but whether or not they've done enough will be a fascinating narrative to follow as the playoffs rapidly approach.