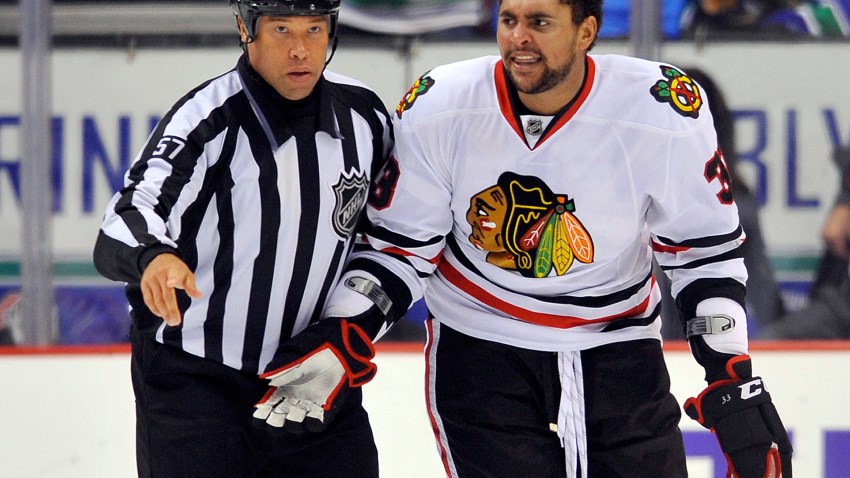 While the return of the Winnipeg Jets is something of a story tonight, the one most Hawks fans are interested in would be Andrew Ladd and Dustin Byfuglien returning to Chicago for the first time since their departure.
Obviously, any member of the 2010 Cup team is going to get a hero's welcome, and well they should. Most Hawks fans will remember their names for their whole lives. I know I will.
Maybe they'll both start. If not, there will be a huge roar when they each hit the ice for the first time, which is always a moment to appreciate. Both have found success in Atlanta and will hope to repeat it in Manitoba. Ladd more so than Buff, but not by a huge margin.
Ladd dwarfed his career high in points last year and goals, with 59 and 29 respectively. This was a result of playing top line minutes and a host of power play minutes for the first time in his career. This also speaks to a lack of talent at forward for the Jets, as most would consider Ladd a second or third line player. Ladd will always have a place in Hawks fans hearts because of his grit and two-way game, as well as his pretty hilarious battle with the Canucks Ryan Kesler. Those kind of personal rivalries always spice up a game, and the two of them going back and forth in 2010 kept the pulses racing.
Byfuglien is a little more divisive of a figure. Because of his goofy personality and large size, he was a favorite among a large swath of fans. Some saw him as a lazy winger who didn't live up to his potential and only came up as a Bum Slayer in a couple playoff games. The Thrashers/Jets sidestepped this a bit and moved him back to defense. Hawks fans were nearly at civil war as Buff piled up the points in the first half of last year. But the league caught on and limited his offense and exposed his defense. Which means there's hardly any of the latter. But that's ok, he cashed in a rich new deal before his game went off where the buses don't run.
Still, it'll be a thrill to see them both back on the UC ice. And that's about all the Jets have going for them tonight. They're in the middle of a rebuild, and will get by on the excitement of having hockey back in Winnipeg with their fans. Their defense has holes, their forwards can't score regularly. So will go with nostalgia tonight.