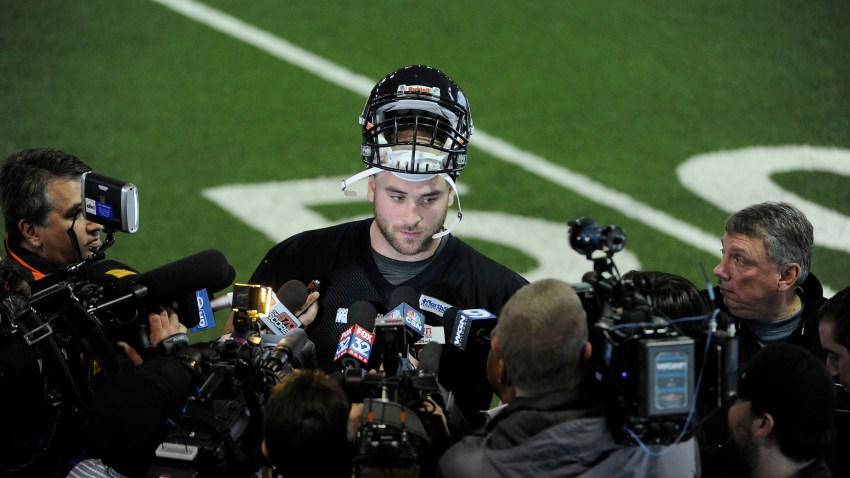 Kyle Long went to the Pro Bowl as an NFL rookie last year but a viral infection has sidelined the second year guard for all six practices in training camp.
Thursday Long told NBC Chicago he's not worried about any bumps in the road of his learning curve.
"In regards to last year, like (Offensive Coordinator Aaron) Kromer said I was like a baby last year and I'm starting to grow up a little bit in terms of my knowledge of the game."
Long played on an offensive line that allowed just thirty sacks in 2013, lining up with veterans like Roberto Garza, Matt Slauson and Jermon Bushrod as well as Jay Cutler keeping him focused has made 2014 fun.
Despite calming the anxiousness to return, Long has taken part in the 6 practices, mentally. "Even when Eben Britton is at right guard, Brian de la Puente and I are going over what our calls are as if we're in the game, everything except if you're playing the play. The pre-snap recognition and all those kind of reads are happening throughout practice whether you're in or not."
That and the fact this is Long's first offseason as an offensive linemen has made entering his sophomore campaign much easier.
"I had never had an offseason really, I showed up at 2-a-days at Oregon, I didn't have any spring ball and then I showed up last year for training camp with only rookie mini camp under my belt" Long said Thursday. "Krome and I were talking about that today, it was my first offseason, it was a lot of fun getting football in the offseason because I usually don't get that."
Sweating and still out of breath from his conditioning workout in the gym after practice Long was excited. And barring "anything ridiculous" happening, Long says he'll be out there at Bears practice Saturday night.
"It's really tough you get that guilty conscience when you're sitting there in meetings and not seeing yourself on film."