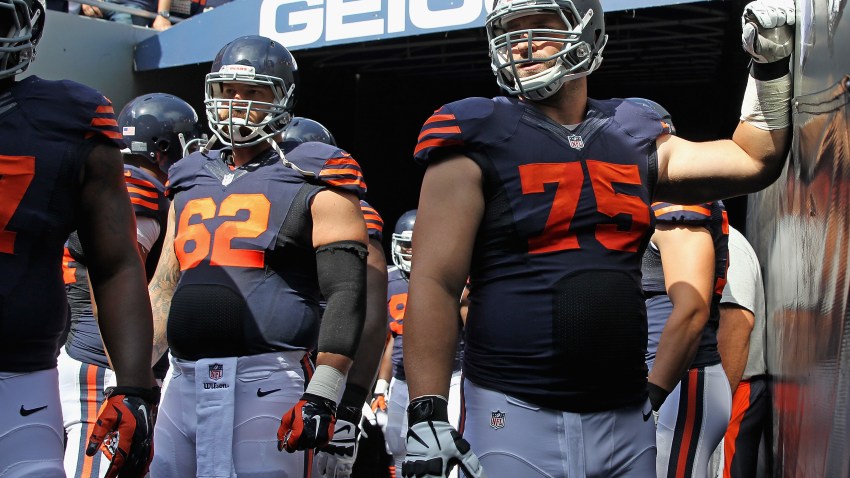 The Chicago Bears came out of the gate flat and stayed that way in a 27-14 loss to the Miami Dolphins on Sunday afternoon, and after the game right guard Kyle Long expressed his displeasure at the way fans received the team as they were headed to the locker room at halftime:
Kyle Long said the booing from fans at home is "unacceptable. Especially when there's not a lot of noise being made on 3rd down." #Bears — Adam Hoge (@AdamHoge) October 19, 2014
Predictably and understandably, the comments left a lot of fans feeling disgruntled. The team had played an abysmal first half of football on both sides of the field, going scoreless in the half and picking up just two first downs. Jay Cutler also threw an interception in the half, and Marc Trestman opted to head to the locker room with his team down 14-0 instead of calling a timeout with a little less than a minute left and two timeouts to use.
After a day to think over his Sunday comments however, Long wisely backtracked a bit and apologized for what he had said:
#Bears RG Kyle Long to @LinBrehmer on @93XRT: "It was wrong for me to point fingers at the fans." — Zach Zaidman (@ZachZaidman) October 20, 2014
To be completely honest here, Long was both right and wrong in this situation. Players can be mad at fans for booing, but fans should also be permitted to express their displeasure with the way things are going. Everyone is entitled to an opinion, and what Long said and the cascade of boos that the team got fit under that premise.
The other thing that has to be mentioned is that both Long and Lamarr Houston are focusing on the wrong thing if they're going to focus on fans being "unsupportive." Their effort on the field, not the fan reaction to the team, is what needs some work, and at least guys like Brandon Marshall seem to get that. If players are going to let themselves be affected by what is said or done by fans or media, then the Bears could be headed down the path to mediocrity rather than a path to success.
Just ask the 2004 Chicago Cubs.

[[279788262, C]]
[[279788272, C]]
[[279789202, C]]
[[279788072, C]]