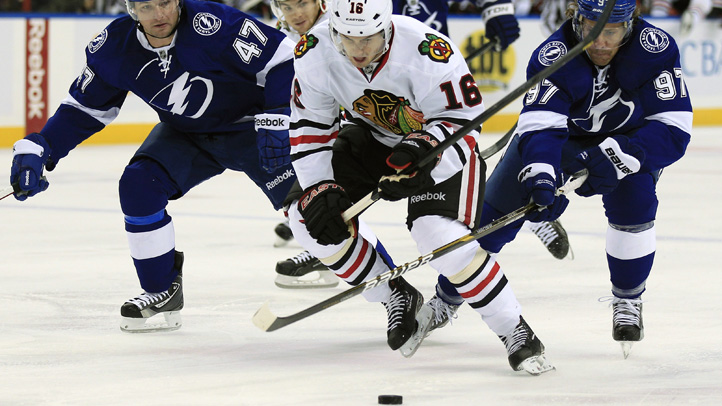 The story out of Thursday's practice is that Marcus Kruger is centering Patrick Sharp and Marian Hossa on a second line, with Patrick Kane returning to the sweet embrace of shotgun on Jonathan Toews' line, with Viktor Stalberg.
This is not an indictment of Patrick Kane's play at center. Offensively, it's been everything the Hawks could have hoped. But lately, teams have been able to isolate Kane defensively. Especially on the road where teams get to pick against whom Kane plays, he's been seeing a lot of top centers across from him.

He's just not equipped to deal with that. The Coyotes fourth goal was a perfect example, where Kane lost the puck, inexplicably floated away from behind the net to grant the Yotes free possession back there from where they found Ray Whitney.

It's not his fault; it's not his natural game.
It's more a compliment to Marcus Kruger. This is what the Hawks envisioned. Has Kruger displayed enough offensive flair to hack it between Hossa and Sharp long term? Yes and no. He's shown a nose for going to the net, but now he needs to be a playmaker.

There's no question the kid has a high IQ and is already defensively better than Kane. But he's still physically weak, and that's probably not something that can get a whole lot better until the offseason.

His play on the power play, however, shows a player with a sense of where the openings are and how to get the puck there. He's got two of the game's preeminent snipers on his wings now. If he can keep doing that, he's going to watch his point total go all Vegas slot machine jackpot.
At least this time, the kid earned it. Last year, they chucked him straight off the plane from Sweden into this and he wasn't near ready. Now he's built himself up from the fourth line.

A game at home against the Islanders isn't much of a test, but the following night in St. Louis will be.

This year, however, I'm as confident Kruger will pass as I was he'd fail last year.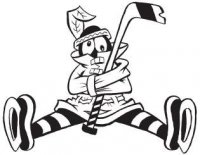 Sam Fels is the proprietor of The Committed Indian, an unofficial program for the Blackhawks. You may have seen him hocking the magazine outside the United Center at Gate 3. The program is also available for purchase online. Fels is a lifelong 'Hawks fan and he also writes for Second City Hockey .