Kristin Cavallari has finally introduced fans to her new daughter with Bears quarterback Jay Cutler.
Cavallari shared a photo of 6-week-old Saylor James on her app Wednesday, and while it's not the first image of the newborn she has shared, it offers the first glimpse at the adorable baby's face.
"Here is my little angel Saylor," Cavallari wrote alongside the photo of little girl donning a pink headband. "I couldn't have asked for a better baby. We're very lucky to have such a sweet, easy girl, especially since she's the third one!"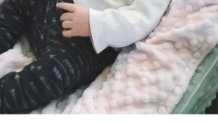 The former reality star has openly shared that her baby's birth came at a bittersweet time as she tragically lost her brother, Michael Cavallari, just weeks after her birth.
Last week, she posted a photo of herself out with Cutler for New Year's Eve along with an emotional message.
"Last night was the second time I've put makeup on in over 5 weeks and left the house (besides the grocery store and taking Cam to school). Even though I shed a few tears, it was a really nice night and felt good to be out," she wrote. "2015 brought my sweet, baby girl but it also took my brother's life. Hoping for no extreme highs and lows this year. Happy new year (sic), everyone."
The 29-year-old designer gave birth to Saylor James on Nov. 23, giving sons Camden, 3, and Jaxon, 1, a little sister. The couple said their newest arrival provided some joy during the family's dark times.
"She has been my light throughout this whole thing and has given me so much strength," Cavallari wrote in an Instagram post. "Thank you baby girl for coming when u did."