A Cook County judge on Friday approved a request to have a special prosecutor review a homicide case involving former Mayor Richard Daley's nephew. To deny the request, said Judge Michael Toomin, would "cap injustice with indignity."

David Koschman's mother hugged her attorneys and broke into tears as Toomin rendered his verdict.

"I am just very happy the judge listened to everything we had to say. Maybe now I can get some justice for David," said Koschman's mother, Nanci Koschman.

She requested the prosecutor to determine whether Chicago police covered up evidence in the case or if the Cook County State's Attorney's office had any conflict of interest.

Koschman died 11 days after he was punched in the face on a Chicago street in 2004. His family has long claimed that Vanecko delivered the fatal punch. Koschman's death was ruled a homicide, but no one was ever charged.

Toomin's 33-page opinion cited institutional conflicts in the investigation, the appearance of impropriety and an attempt to denigrate the evidence against Daley's nephew, Richard "RJ" Vanecko.

"When you have a dead body, someone is going to jail, but not in this case," said Toomin. "This was a defense conjured up by police and prosecutors made of whole cloth."

Both Vanecko and Cook County State's Attorney Anita Alvarez fought request to appoint a special prosecutor in the case. Alvarez said Friday she would not appeal Toomin's decision.

"In light of today's ruling I will respect the opinion of this case and move forward," she said.

Vanecko's lawyers filed a motion to intervene on the request and disputed the suggestion by Nanci Koschman's lawyers that Vanecko may have confessed to throwing a punch that night.

Alvarez filed a motion stating her office bears no conflict of interest in investigating the death, despite the fact that one of the assistants in her office, Darren O'Brien, worked on the case in 2004 and recommended that no charges be filed.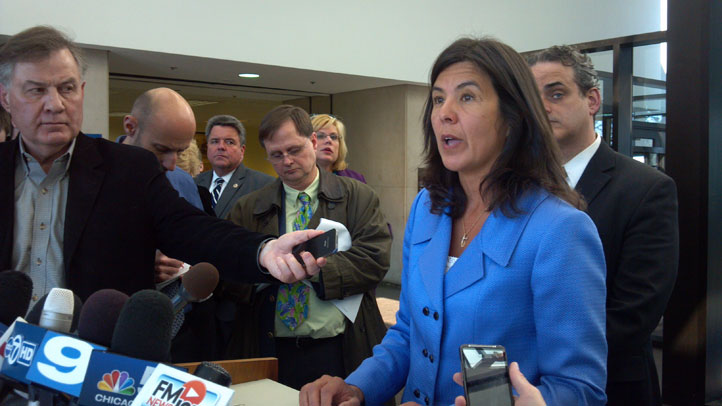 Photo by Charlie Wojciechowski: Cook County State's Attorney speaks to reporters after Judge Michael Toomin approved a request to appoint a special prosecutor in the death of David Koschman. Alvarez said she "respects the decision of the court" and will not appeal the judge's decision, but will not stand by while others try to "trash" her reputation.