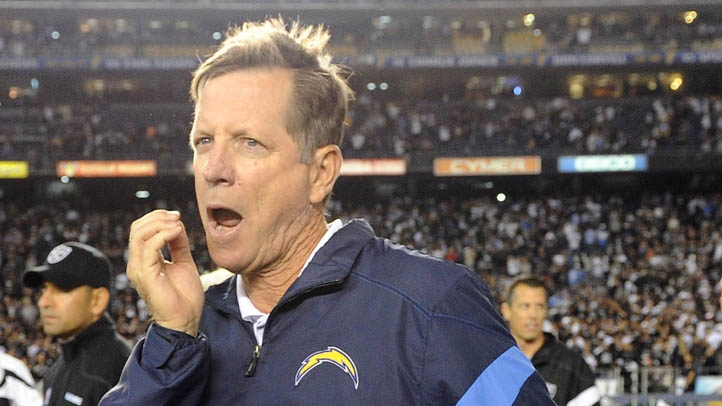 The Chargers are 4-5, which would knock them out of playoff contention in every other division in the NFL. Not the AFC West, where the Raiders lead with a 5-4 record, and the rest of the teams are 4-5. A win against the Bears and a .500 record could actually put them in place to win their division. Seriously.

Even with that record, the Chargers are producing at a high level on both offense and defense. The Chargers are one of only four teams (Dallas, Houston and Pittsburgh) to rank in the NFL's top 10 in both total offense and defense. This week, the Bolts rank seventh in total offense and 10th in total defense.

With all of that production, why are they losing? Stupid mistakes. Rivers leads the league in interceptions and is third in sacks and third in fumbles. In a four-game losing streak since their bye week, every loss has been by a touchdown or less.

What else do you need to know about the Bolts before they storm into Chicago on Sunday?

Cry Me a Rivers: Philip Rivers is in the middle of a frighteningly bad streak. He fumbled the snap to open the door for the Chiefs to beat San Diego in overtime, threw three interceptions against the Packers, and was picked off late in the team's loss to the Jets. Rivers leads the league with 15 interceptions, but it's not just the picks that have helped the Chargers lose four games in a row. It's the bad timing of the picks.

Norv! Though he is known for blowing leads in games, Norv Turner has unusual success against the Bears. He is 4-0 against Chicago.

Infirmary: Injuries have taken a huge toll on the Chargers this season. Eight players missed practice on Wednesday, including two offensive lineman. Earlier this week, the Chargers placed Kris Dielman on the season-ending injured reserve because of a concussion. The offensive tackle has been to the Pro Bowl four times and is a huge part of Philip Rivers success.

Youngsters taking over: Two bright spots on the San Diego offense, even through their four-game losing skid, have been Ryan Mathews and Vincent Brown. Matthews is ranked among the top 20 of the league's running backs in total yardage, even after missing the game with the Packers. Brown, a rookie this season, has had nine catches in the last two games for 176 yards and two touchdown.

Familiar faces: After a rough 2010 and unceremonious dumping by the Bears, former Pro Bowler Tommie Harris landed in San Diego. He's played in the last four games, scoring a sack and six tackles. Antonio Garay, who was a back-up in Chicago for two seasons, is a starting defensive tackle for the Chargers.
Copyright FREEL - NBC Local Media