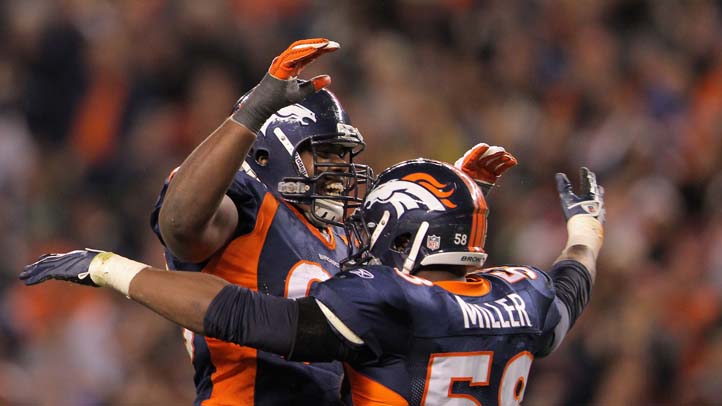 The Broncos started their season out 1-4, but took a turn when a certain quarterback was added to their starting line-up. While putting Tim Tebow in at quarterback did make a marked difference in the Broncos season, the team is more than him.

Sack-tastic: Denver is ranked 10th in the league at sacks, mostly because of Von Miller and Elvis Dumervil. Rookie Miller has 11 sacks, while Dumervil has seven. He has made at least a half a sack in the past five games.

Ground offensive: The majority of their offense comes on the ground, putting pressure on Willis McGahee, who has three 100+ yard games in their past five, and Tebow, who has run for 468 yards.

New coach, different results: NFL veteran John Fox is in his first year with the Broncos, and has helped them turn around their fortune by keeping a lighter mood around the team. He expects his players to do their jobs, but isn't afraid to break tension with a joke or two.

Special, special teams: The Broncos, like the Bears, place special importance on special teams. Their unit is ranked fourth in the league, largely behind the leg of punter Britton Colquitt. He averages 47.9 yards per punt. They have also returned two kickoffs for touchdowns.

Not a one-option pony: Though Denver is known for running the option, they will use a more traditional two-back set. They used that set in 30 offensive plays against the Vikings. Also, get it? One-trick pony because they're the Broncos? Oh, forget it.

Infirmary: One thing that can stop the Broncos is their mounting list of injuries. McGahee has not practiced this week because of a knee injury, but he is expected to play on Sunday. Receiver Eddie Royal is dealing with a concussion, and the Broncos are unsure of whether or not he will play. Two offensive linemen were limited in practice on Thursday, and Miller is practicing with a cast on his thumb.
Copyright FREEL - NBC Local Media