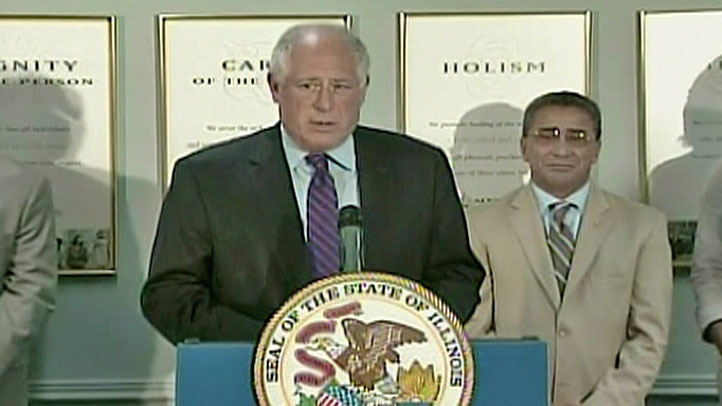 Modern Drop Forge is not leaving Illinois for Indiana because Gov. Pat Quinn raised taxes. The 97-year-old Blue Island auto parts manufacturer is leaving because it's less likely to have to pay workers for on-the-job injuries in Indiana.

As Indiana Gov. Mitch Daniels told Fox News Chicago, Indiana is more "conservative" in approving workers' compensation claims than "generous" Illinois. That was irresistible to Modern Drop Forge's owners, the Heim family, who estimate they may save $300,000 to $400,000 a year in workers' comp insurance.

"Workers' comp in Illinois is a real deterrent to business, especially for a manufacturer," Modern Drop Forge Owner Greg Heim said.

That's because manufacturing involves working around heavy equipment that can cut off fingers or wrench backs.

Fortunately, Modern Drop Forge's 240 employees won't be forced to work in this environment. When the company moves to Merrillville, Ind., in 2014, it will fire its entire workforce and invite them to reapply for their jobs.

Your Ward Room Blogger once had the misfortune of working in Indiana and can testify that it is not sympathetic to employee claims. I spent a year as an editor at a "lifestyle magazine" in LaPorte. It has since gone out of business, because there's not a lot of lifestyle in northwest Indiana. The terms of my departure were a matter of dispute. I claimed I was fired. The company claimed I quit.

I filed for unemployment. I won my case, but while it was working its way through the system I took writing jobs to support myself, because I didn't have enough money saved to sit around the house and be unemployed for eight months.

When the Indiana Department of Workforce Development found out I was working, it ruled I was self-employed and denied my claim, costing me over $7,000 in unemployment insurance.

So the lifestyle magazine really won, by stalling long enough to force me to disqualify myself by working. I was so mad at Indiana I refused to buy tickets to the Air Supply concert at Horseshoe Casino.

I hope Modern Drop Forge's employees keep their jobs when the company moves to Indiana. It's hard to find a good manufacturing job today. And once they get them, I hope they don't get injured or laid off. You don't want to be sick or unemployed in Indiana.
Buy this book! Ward Room blogger Edward McClelland's book, Young Mr. Obama: Chicago and the Making of a Black President , is available Amazon. Young Mr. Obama includes reporting on President Obama's earliest days in the Windy City, covering how a presumptuous young man transformed himself into presidential material. Buy it now!