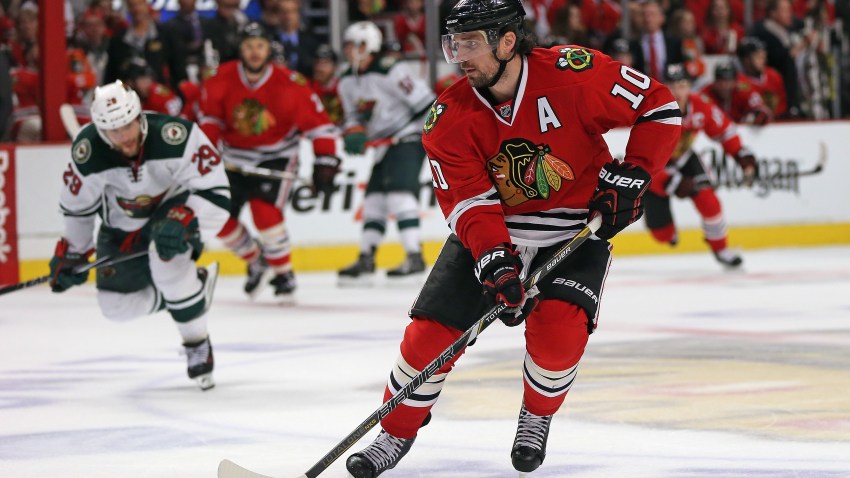 After a few days off to rest and recover after eliminating the Minnesota Wild in the second round, the Chicago Blackhawks will hit United Center ice on Sunday afternoon in a rematch of last season's Western Conference Final against the Los Angeles Kings.
As they look to extend their home ice winning streak in the playoffs to eight games, here are our Three Keys to victory for the Hawks.
Step on the Accelerator Early
In the Stanley Cup playoffs, it's typical for teams to take the start of Game 1 a bit tentatively to try to feel out their opponent's weak spots and save the knowledge gained for later use. In the case of the Blackhawks, this strategy would be a mistake.
That's because the Kings are coming off of a hard fought series against the Anaheim Ducks that just ended late on Friday night. That means they've had about 36 hours of rest, and they also had to fly across the country on Saturday afternoon to get to Chicago for Sunday's game. The early starts generally wreak havoc with teams anyway, but in this case, it could be even worse for Los Angeles.
Knowing that, the Blackhawks have to go at the Kings right as the puck drops. Use stretch passes and move the puck around the ice quickly. Pepper Jonathan Quick with shots. Use guys like Bryan Bickell to win puck battles and assert themselves physically against the Kings. Whatever strategy the team can use to get Los Angeles out of their comfort zone, the Blackhawks have to employ it, and they have to do so from the moment Jim Corneilson finishes his anthem rendition.
Defensive Discipline is a Key
Piggy-backing off of the first key to the game, the Blackhawks also have to be mindful that playing aggressively can come with bad consequences if there isn't good communication and discipline on the back end of things. The Blackhawks' blue liners had a bit of a tough time with executing pinches and staying in their lanes at times during the Wild series, and that's not something they can afford to do if their forwards are going full speed ahead to try to gain an early advantage in Game 1.
Guys like Duncan Keith and Brent Seabrook are both excellent when it comes to chipping in offensively from the blue line, but they have to make sure that the support is there if they decide to drive into the play. Too often you'll see one of them drive into a play and not have a forward come back to take their place at the blue line, and the resulting odd man rushes give their opponents great scoring chances.
Against a team like the Kings, those kinds of mistakes are a huge problem. They may not have the most potent offense in the world, but with players like Marian Gaborik and Anze Kopitar, they can still hurt a team if they give them an opening. The Blackhawks can't do that, and they have to balance their aggressiveness with a dose of smart hockey in order for it to be effective.
Get Patrick Sharp Going
The Blackhawks haven't been getting much in the way of production out of Patrick Sharp so far in these playoffs, and it seems as though he may finally be due for some big games.
Even though he only scored one goal against the Wild in the second round series, Sharp still continued to push the issue on offense, picking up two assists in Game 6 and racking up seven shots on goal over the final two games of the series as the Hawks clinched a berth in the third round of the postseason.
He has gone through goal scoring droughts like this before, and it always ends up resulting in a huge goal scoring streak when he finally does break through. Utilizing an aggressive game plan early on can only benefit Sharp in this game, and if he can get on the board, it could not only propel the team to victory but also get him going on a successful run of his own.