I've said it before, but sometimes you just walk away from a game and there's nothing else to conclude but the fact that there will be losses on the final record.

The other guys get paid too, it's not your night, Mama said there'd be days like this, whatever cliche you want. In an even game between two good teams, the margins sometimes come down to one goalie playing great, and the other playing really well. So it was Wednesday night.
Corey Crawford had his best game in a while, but one goofy rebound led to a scramble that opened the scoring. Jonathan Quick on the other end made no such mistakes, as he was magnificent. By some distance this was the best goalie performance put on by an opposing netminder in the United Center this year.

This wasn't a case of the Hawks not getting enough traffic in front of him or not working the boards behind him enough. Quick had an answer for everything. And when he might not have, his defense did. This has always been the strength of the Kings, and it will be the main reason they are a very obstinate opponent for whoever gets them in the spring.
The Hawks tried everything. Shooting low for rebounds, picking corners, moving him side-to-side. Quick bested them every time. It's not surprising, he leads the league in shutouts and is one of the more unheralded goalies around. The Hawks are hardly the first or last victim.
If we have to nitpick, you could talk about a couple non-calls that really weren't egregious, or some wonky marksmanship from Patrick Kane and others, or John Scott ruining some serious 1st period momentum by taking a completely senseless penalty. But that's all it would be is nitpicking.
The only real complaint is Joel Quenneville's petulant blaming of the refs for both Kings goals. As much blame as the refs might get, an equal amount can be parsed out to Crawford for the reasons above, and to Niklas Hjalmarsson for pulling up a director's chair while Justin Williams got a carnival three-for-a-dollar whack at Corey Crawford. Coaches shouldn't look for scapegoats and excuses. Quenneville knows better.
It's just a loss, and not significant or a symptom of real problems. Everyone moves on.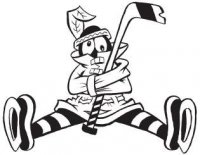 Sam Fels is the proprietor of The Committed Indian, an unofficial program for the Blackhawks. You may have seen him hocking the magazine outside the United Center at Gate 3. The program is also available for purchase online. Fels is a lifelong 'Hawks fan and he also writes for Second City Hockey .