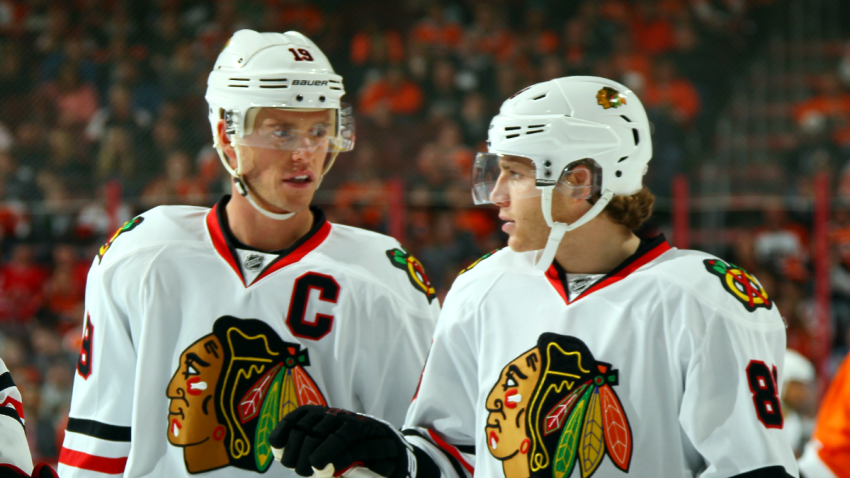 The Chicago Blackhawks are well-represented at the NHL All-Star Game this weekend in Los Angeles, and on Friday we found out what guys like Patrick Kane and Jonathan Toews will be doing in Saturday's Skills Competition.
The competition, which like the All-Star Game itself will pit divisions against one another, will feature four Blackhawks in total, with Kane, Toews, Duncan Keith, and Corey Crawford each participating in a variety of events.
For Kane, he'll be representing the Central Division in the Accuracy Shooting competition along with Winnipeg Jets rookie sensation Patrick Laine. Each player will shoot at four targets and try to hit them in a faster time than their opponent.
Kane will go up against Pacific Division All-Star (and hometown guy) Jeff Carter, and Laine will have to square off with Edmonton Oilers superstar Connor McDavid in the first round. Kyle Okposo, John Tavares, Auston Matthews, and Sidney Crosby will also participate in the event.
Keith, Kane, and Toews will all participate in the Skills Competition Relay, which features five different stations on the ice. Keith will team up with Minnesota Wild defenseman Ryan Suter and St. Louis Blues sniper Vladimir Tarasenko in the one-timer portion of the competition, and Toews will square off against Kings star Drew Doughty in the passing portion of the competition.
Kane will also be involved, as he takes on Calgary Flames star (and fellow American) Johnny Gaudreau in the stick-handling portion.
Finally, all three players will participate in the shootout competition to end the festivities, with Crawford playing in net for the Central Division.
The Skills Competition will get underway on Saturday night at 6 p.m., and coverage will air on NBCSN.