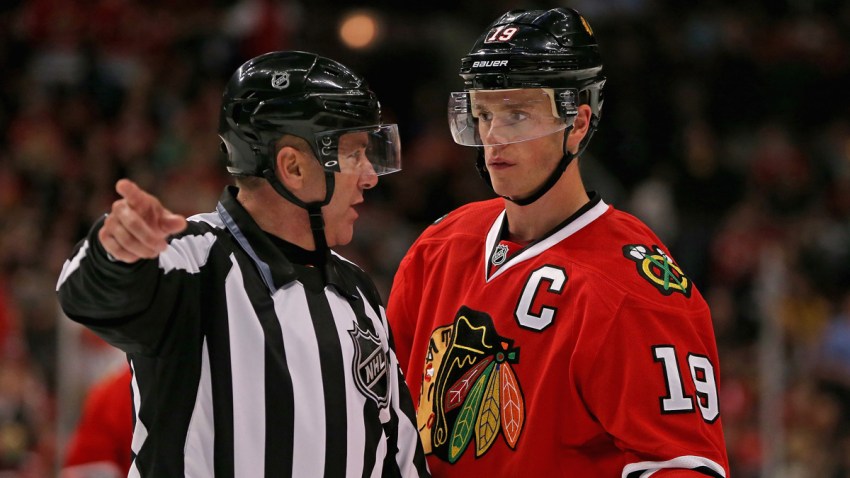 The NHL All-Star Game in Columbus will be the first time the league's best skaters will all be on the same surface since the 2012 contest in Ottawa, and fans are responding by getting fan voting off to a rollicking start.
Not surprisingly, the Chicago Blackhawks are getting a lot of love from fans, as three of their players occupy the six spots that are being voted on. Patrick Kane leads the way with over 73,000 votes in the first week that the ballot has been available, and Jonathan Toews is close behind him with nearly 72,000. Defenseman Duncan Keith currently ranks second among NHL defensemen in balloting, trailing only Montreal's PK Subban.
Goaltender Corey Crawford is also getting plenty of love, as he currently ranks second among goaltenders in voting. He only trails Montreal netminder Carey Price, who racked up an impressive 83,000 votes over the past seven days.
Voting, which is open until Jan. 1, will determine the first three forwards, two defensemen, and one goaltender to be put on the rosters. The other 36 spots are determined by the league, and then the players selected name two captains, who then pick the two rosters that will do battle in the game. In the 2012 game, Daniel Alfredsson of the Ottawa Senators and Zdeno Chara of the Boston Bruins were chosen as captains.
A couple of other Blackhawks are within shouting distance of winning spots in the game, with Brent Seabrook currently ranking fifth among defensemen in voting and Patrick Sharp currently sitting just outside the top 10 among forwards.