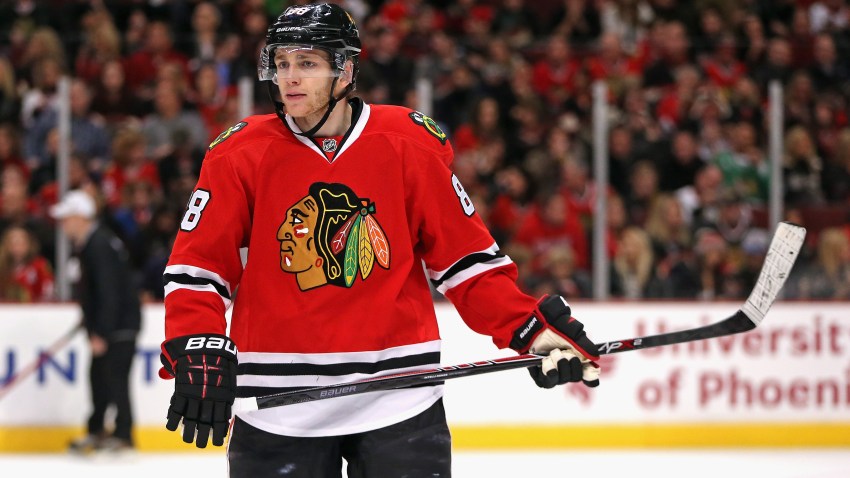 The Chicago Blackhawks practiced at the United Center on Tuesday morning ahead of their tilt against the Minnesota Wild, and a familiar face was on the ice with the team as Patrick Kane once again participated in drills with the club.
Kane, who has been out of the Blackhawks' lineup since Feb. 27 after fracturing his clavicle, took full-on slap shots and one-timers during Tuesday's workout, something he has not done since being injured. The winger is still not taking contact in practice, but that's the next step on the agenda as he tries to work his way back from the injury.
"He's progressing real well," head coach Joel Quenneville said. "Every day it seems like he's getting a little stronger. His skating has always been fine, he's handling the puck extremely well. It's good signs every day seeing the progress."
Kane will not return during the regular season, and it's still hard to imagine him returning in the first round of the postseason. His original timetable had him returning in time for the conference final, but with the rapid progress he's making on the ice, it wouldn't be all that shocking to see him return for a second round series if all goes according to plan.
That plan includes making sure Kane can withstand contact, and while the team isn't ready for him to take that step, it is on the horizon.
"Whether we're together on the ice with him with contact or not, there are ways where he can get contact without the team being on the ice," Quenneville said. "There are ways of getting him ready without everyone being around."