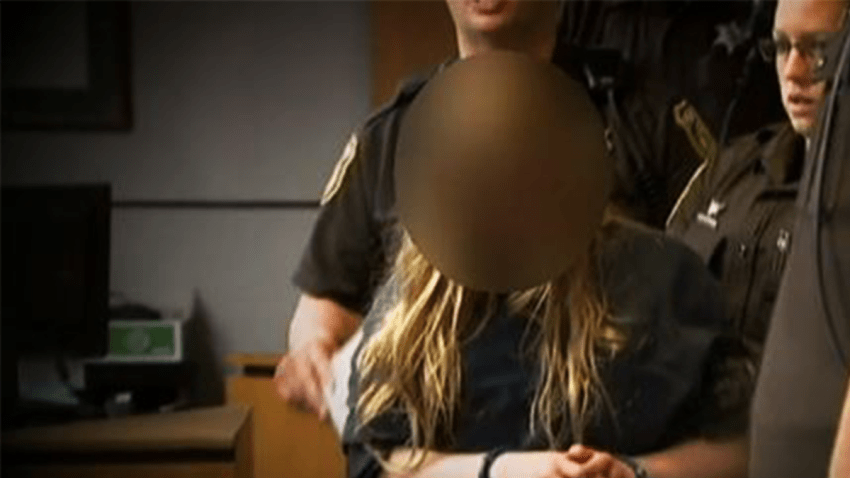 A judge has ruled that confessions made to police will be admissible at the trial for one of two Wisconsin girls accused of trying to kill a classmate to please a fictional horror character called Slender Man.
Judge Michael Bohren on Monday also rejected a defense request to move 14-year-old Morgan Geyser's trial out of Waukesha County. Geyser and 15-year-old Anissa Weier have pleaded not guilty by reason of mental disease to attempted homicide charges in adult court.
Both girls were 12 years old when prosecutors say they lured classmate Payton Leutner into the woods near a Waukesha park after a birthday sleepover and stabbed her 19 times in 2014.
Prosecutors say the girls plotted for months to kill their friend and told investigators they believed Slender Man had a mansion in the Wisconsin forest. They planned to go live with him after the slaying, authorities said.
Payton, who was also 12 at the time, survived the attack. She was found by a passing bicyclist after crawling from the wooded area to a nearby road, while bleeding from wounds that nearly killed her, authorities said.
Geyser's trial is set for Oct. 2. A hearing on the same motions from Weier is scheduled next week, the Milwaukee Journal Sentinel reports.
The story of Slender Man has provided spooks and thrills for legions of online readers, inspiring a series of videos and once earning the moniker of "the Internet's monster."
The character first surfaced in 2009, when a user on an online forum called Something Awful posted a doctored photo and fictional article in response to a call for fake supernatural images, according to the site KnowYourMeme.com and an expert who has studied the evolution of the Slender Man myth. While such creations aren't uncommon, Slender Man struck a nerve. Soon, users were contributing their own visions of the monster and versions of the terror he'd inflict on unsuspecting school children and others.
In variations of the legend, Slender Man was said to "cause memory loss, insomnia, paranoia, coughing fits," according to Know Your Meme. His narrow frame was accented by tentacles or arms that could stretch and retract in some accounts.
Copyright AP - Associated Press