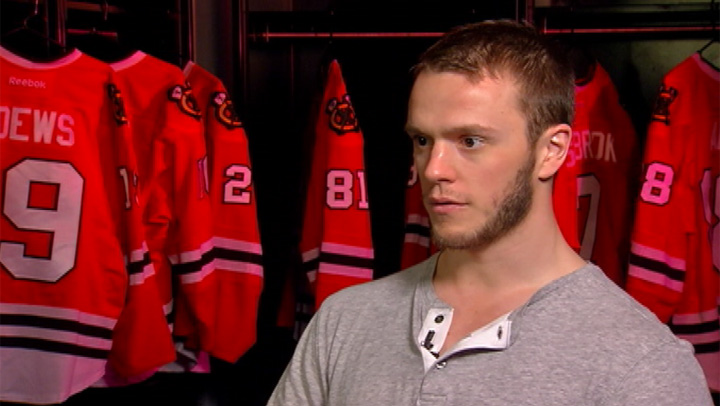 The NHL Awards, normally an extravagant ceremony held in either Montreal or, in more recent years, Las Vegas, have been relegated to a special one-hour TV show this season because of the compressed end-of-season league schedule, but the Chicago Blackhawks were still well represented on the program.
Team captain Jonathan Toews was named the winner of the Frank Selke Award, given to the league's best defensive forward. He beat out Boston's Patrice Bergeron, who happens to be playing against Toews in the Stanley Cup Final, and Detroit's Pavel Datsyuk, who made Toews' life difficult in the teams' second round playoff series.
Blackhawks head coach Joel Quenneville was also nominated for an award that was handed out Friday, the Jack Adams Award, but ended up losing out to Ottawa Senators head coach Paul MacLean. Bruce Boudreau of the Anaheim Ducks was also nominated for the trophy.
Quenneville received 22 first place votes, and finished second in voting overall, but he couldn't overcome the 28 votes that MacLean got.
Meanwhile, Toews' teammate Patrick Kane was beaten out by Martin St. Louis of the Tampa Bay Lightning for the Lady Byng Trophy, given to the player who best combines sportsmanship with a high level of play. Matt Moulson was also a nominee for the award, and Kane was shut out in his attempt to become the first Blackhawk to win the trophy since Stan Mikita in 1968.