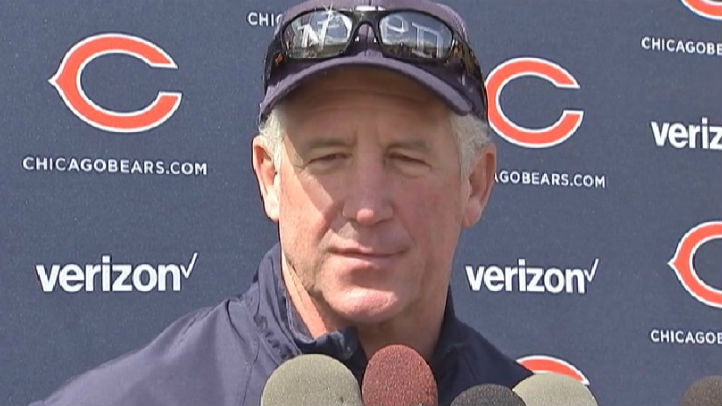 On the 14th anniversary of the Sept. 11 attacks, Chicago Bears head coach John Fox recalled his memory of the fateful day, when he was a defensive coordinator for the New York Giants.
On Sept. 10, 2001, Fox was returning from Denver where the Giants had just lost to the Broncos. The overnight flight landed in New Jersey, and the players went home while the coaches headed to their offices at Giants Stadium to begin preparing for Sunday night's game against the Green Bay Packers.
A few hours into their video work, Fox's wife, Robin, called and asked him if he knew what was going on.
Stunned by his wife's alarming tone, Fox told her he didn't know what she was talking about. The coaches then opened the drapes in their offices and saw the Twin Towers missing from New York City's skyline. In their place, they saw billowing smoke.
Fox and the Giants were departing from their plane when the flight that went down near Pittsburgh was pulling out of the jet way at Newark International Airport in New Jersey.
When the whole team and coaching staff found out about the attacks, several of them discovered they knew someone who had died. For Fox, it was the man who built his house who was killed.
The Giants practice facility was set up as a morgue, but no bodies ever arrived.
Two days after the attacks, NFL games were postponed that week. Fox visited Ground Zero with a group of people from the Giants and witnessed first responders still searching for bodies, an image that stays in his memory to this day.
Fourteen years later, Fox is preparing to play the Packers again, but this time in Chicago. Now, 800 miles away and three teams later, he wears an NPYD cap to honor the first responders as he leads the Bears' workouts in Lake Forest.
"It's kind of embedded in me ever since," Fox said. "I lost some close friends. It holds a special place every Sept. 11."