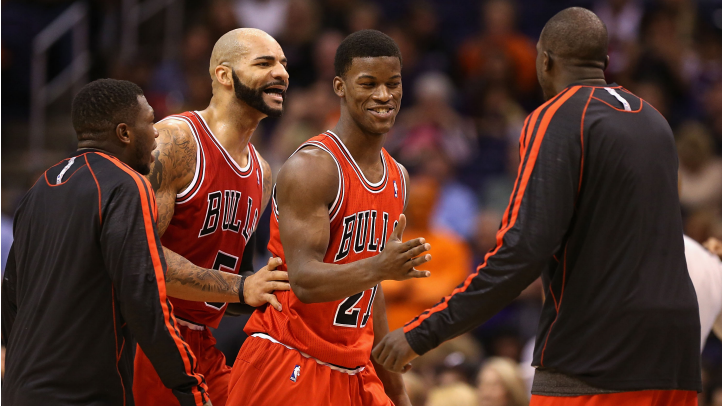 In the Bulls locker room after Chicago's 93-85 victory over the Charlotte Bobcats on Monday night, Carlos Boozer had a message for all of the assembled media and a simple request as well.
"Get Jimmy Butler in the rookie-sophomore game. He deserves to be there. Can you guys write about that? Do my man a favor and get him in the that game."
We're way ahead of you, Carlos.
Back in December, I wrote that Butler and rookie Marquis Teague deserved a spot in the NBA's "JV" All-Star game being held in Houston -- Butler's hometown. But while injuries gave Teague a chance to play early in the season, the improved health of Kirk Hinrich of late has relegated the rookie back to a spot on the bench.
Butler has a spot in the rotation and when Deng was sidelined with an injury to his hamstring, Butler found himself thrust into the spotlight as a starter and didn't disappoint. The Marquette alum made the most of his opportunity and was just as productive as Deng would've been in the lineup.
The opportunity to contribute and showcase his talent wasn't lost on the rapidly improving Butler, and his teammates really appreciated his effort and what he brings to the table to help the team win games.
"Jimmy has been great, man. He's professional and he works his butt off," Boozer said. "He did a great job when Luol was out; coming in, starting, getting double-doubles and playing tough defense. He plays the whole game and hopefully he can continue to keep growing because he has a great potential."
Nate Robinson, Butler's closest friend on the team, also thinks Jimmy deserves a trip to Houston next month to participate in the All-Star festivities.
"If Jimmy doesn't get into the rookie-sophomore game something is wrong. They don't need to have it no more," Robinson opined. "It would be ridiculous if he didn't get in. Jimmy does his thing. And he's gonna dunk on some people in the game. I just know it. So I think he should be in. He's got my vote."
For his part, Butler downplayed his teammates' campaigning, preferring only to focus on the team goal to win as many games as possible. Still, the swingman is appreciative of the support and thinks it'd be a tremendous honor if he were selected, but he has loftier goals in mind.
"To tell you the truth, I'd love to play in [the rookie-sophomore game] but I don't think about it. I think about this team," Butler told Outside Shot. "That's like an individual accolade, to tell you the truth. I love this team, man. I want this team to win a championship. Those guys in there, they deserve it. They bring it every day, they bring it every night. All-Star weekend, that's a dream, too. But a championship, that's what everybody dreams of."