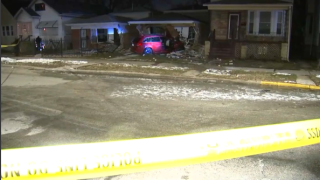 A police chase that started in south suburban Matteson Sunday ended in Roseland on Chicago's South Side.
Matteson police said they notified Illinois State Police that they were pursuing a stolen vehicle wanted in connection with an armed robbery driving northbound on I-57 near Vollmer Road, according to an ISP statement released.
ISP were following a red Jeep on I-57 and I-94 when the vehicle exited the expressway and crashed into a fence of ahome about 2:50 a.m. in the 300 block of West 107th Street, Chicago police said.
The crash ruptured a gas main, according to Illinois State Police.
No one was injured as a result of the incident.
Authorities confirmed that two men were taken into Illinois State police custody.
No other details were immediately known.