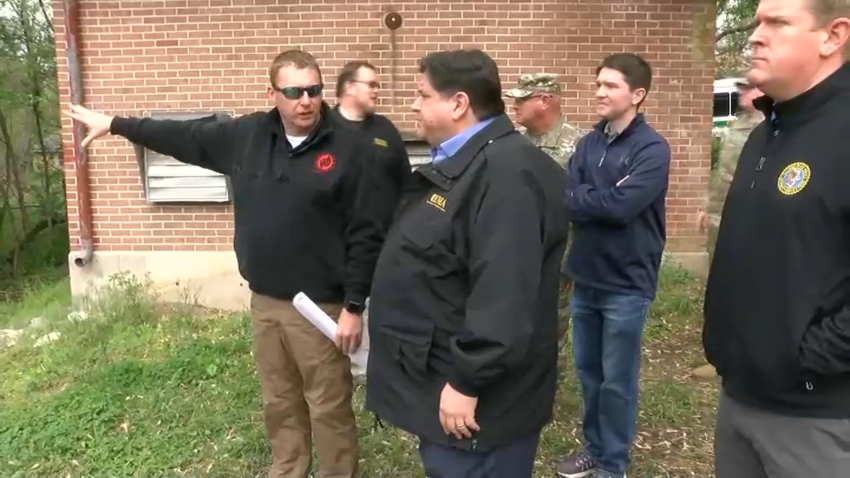 Illinois Governor JB Pritzker toured areas of central Illinois that have been inundated with floodwaters this week, and warned that water levels could remain at critically high levels for at least another week in some locations.
Pritzker was joined by officials with the Illinois Emergency Management Agency, the National Guard, and Army Corp of Engineers for the visit, and advised residents along the Illinois River to stay vigilant.
"Heavy rains and flooding continue to threaten communities across our state and I urge all residents to be prepared," Pritzker said in a statement. "The state is doing everything we can to provide resources to impacted communities, and we continue to urge Illinoisans to help by listening to authorities, checking on neighbors, and being prepared to evacuate if necessary."
Emergency officials also provided a list of suggestions for residents along the river, saying that more evacuations could be ordered if water levels rise any further:
-Be ready to evacuate: Pack an emergency go-bag for quick evacuations, and don't forget medications, cellphones, chargers, and be sure to provide for your pets in the event of an evacuation.
-Have multiple information sources: Make sure your phone can receive emergency alerts, and monitor TV, internet, and radio for updates on the weather.
-Safeguard important documents, such as your birth certificate, passports, and insurance policies.
-Have a family communication plan in the event of an emergency.
-Turn Around, Don't Drown: Flooding has killed nearly 50 people over the last 25 years. That number is higher than the number of people killed by tornadoes during that same time frame, and a majority of flood fatalities occur when people try to use vehicles to cross flooded roads.