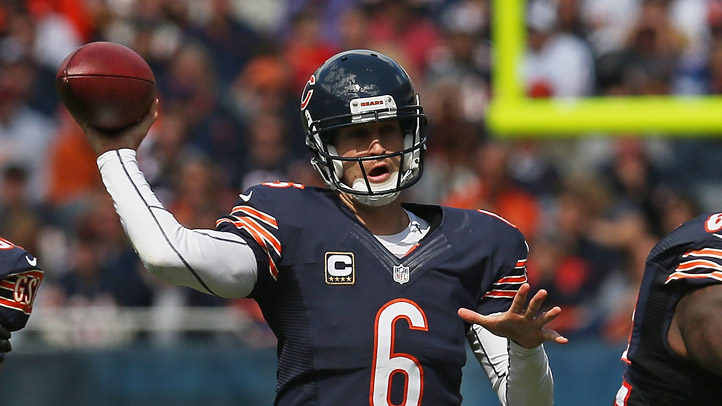 Jay Cutler threw for just 183 yards on Sunday. Against the Packers, he had 102 yards. While getting sacked so often hurt the Bears QB against Green Bay, it doesn't explain why Cutler couldn't break the 200 mark against the Rams. What can explain it? Inaccuracy on Cutler's part.

His career completion average hovers around 60 percent, but Cutler only has hit 52 percent of his throws this season. While the difference seems insignificant, the number falls to 48 percent when the Colts game is excluded.

And it can't all be blamed on the receivers. During the Rams win, Devin Hester missed a crucial end zone pass because it sailed above Hester's 5-foot-10 frame. Brandon Marshall and Alshon Jeffery could have caught that, but it was too much for Hester. Cutler talked about that pass during his radio show on Monday.

"Yeah, it is (fair to say he should made the catch). Devin has to make that catch. I could have helped him out and put it a little bit lower for him, but Devin was as disappointed ... probably more than anybody else. He wants to make those catches. It's on both of us. It takes a lot of people to make that happen, and I have to help him out.

The Chicago Tribune took a closer look at Cutler's performance on Sunday, and found 14 of his 33 passes were inaccurate. While Marshall was still able to make the catch on three of those inaccurate throws, Cutler can't count on his receivers always being able to make the catch. He said during his show that the offense is still gelling.

"We're just not there yet to get style points. We're just still trying to get regular points. We'll get style points later. Right now we're just learning the offense, everyone is getting comfortable, we're finding our identity. Mike (Tice is) still finding his identity as a play caller. All those things are coming together, and at the end of the day we just have to win games. And that's what we did."

With the Bears playing the Cowboys on Monday night, Cutler needs to figure out the offense and how to find the accuracy he is capable of. It's week four and there's not much time to waste.
Copyright FREEL - NBC Local Media