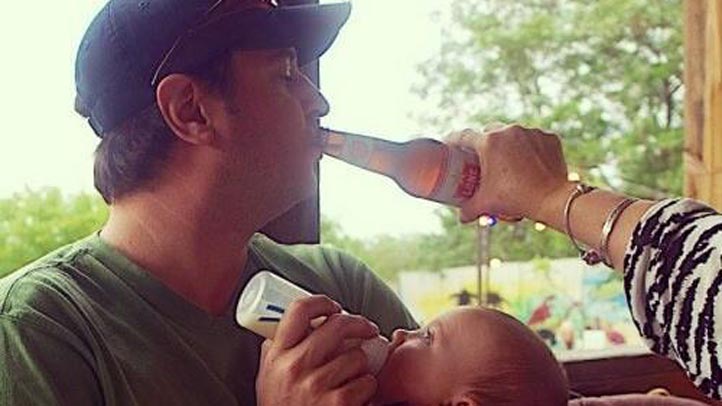 Update: NBC Chicago confirmed with the Chicago Bears Sunday that this photo was manipulated.
According to an article on Deadspin, a statement from the Bears media relations department read:

It's not [Cutler]. I obviously can't convey that message to every other website but I'm a regular visitor to your site and thought I'd let you know.

Have a great weekend.
Jay Cutler's skills don't end at passing, handing the ball off and occasionally berating teammates. The man is a multitasker. Check out how give his infant son a bottle while drinking from one himself.
There is just so much to appreciate in this picture. Look at how Camden is looking at his father with admiration, as he should. Look at how someone is so kindly supplying Cutler with beer. Look at how Cutler handles both tasks with ease. Look at how he is drinking Lone Star Beer! It's the official beer of Texas.
Cutler has talked about how fatherhood has changed him. It looks like he's picked up multitasking as a skill. Thanks to little Cam, he should be able to handle throwing a pass deep to Brandon Marshall as Clay Matthews bears down on him much better.
Many thanks to Terez Owens for the pic.
Copyright FREEL - NBC Local Media