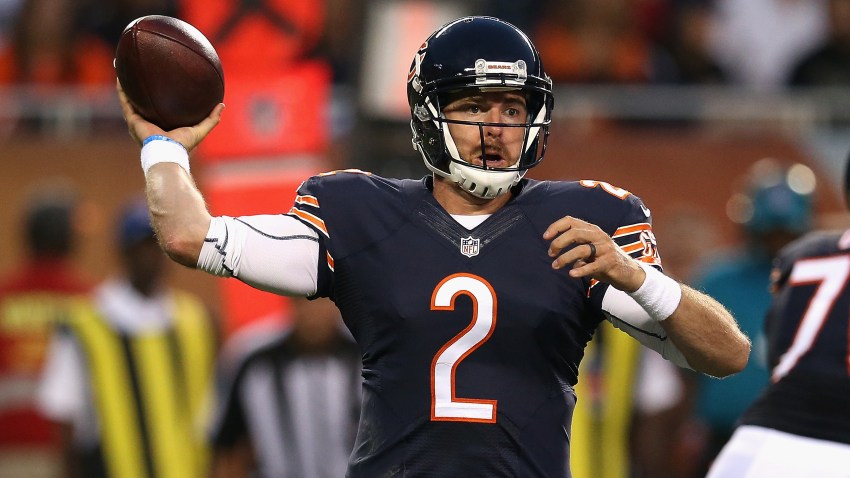 The Chicago Bears walked off Soldier Field last Friday with a 34-28 victory over the Philadelphia Eagles in tow, and less than a week later, they will try to run their preseason record to 2-0 when they take on the Jacksonville Jaguars in a nationally televised showdown.
Before the two teams take the field, we'll take a look at some of the players Bears fans should be watching for in the game.
DE Jared Allen
Allen will make his preseason debut in this one after missing the Bears' first game, and it should be interesting to see how the defensive line responds. They got some great pressure on the Eagles in Week 1, with Jeremiah Ratliff and Stephen Paea getting great push up the middle and Willie Young filling in admirably for Allen at the end position.
Adding the veteran to the mix will free up Lamarr Houston to move from end in the standard 4-3 package to tackle in the nickel grouping, and that variety of looks could be tough for the Jaguars to deal with.
LB Jon Bostic
Bostic had a rough go of it in the first preseason game, and has to be careful that he doesn't get overtaken by Christian Jones or Khaseem Greene on the depth chart. His athleticism makes him an attractive option for a starting job (or for a role in the nickel personnel), but his decision making and technique have to improve in order for Mel Tucker to trust him on the field.
RB Michael Ford
Ford had an awful week in special teams coverage last week, blowing a gap assignment on Josh Huff's 102-yard kickoff return touchdown and running into Micheal Spurlock on a punt, causing the Bears to fumble away the ball. He is going to have to show some big-time improvement in that area if he's going to have a shot at making the roster, with Ka'Deem Carey and Shaun Draughn both ahead of him on the depth chart at running back.
P Pat O'Donnell
O'Donnell and Tress Way are competing for the starting punter position, and even though the rookie likely has the edge thanks to his ability to kick the ball a long distance with great hang time, he still has to show that he can execute in game situations. Week 1 wasn't kind to him, and Week 2 has to show some improvement in order to put this competition to bed.
QB Jordan Palmer
Jimmy Clausen likely took the lead for the back-up job last week, but Palmer has a chance to redeem himself on Thursday. He'll be going against the Jaguars' third stringers in the game, and if he can show more pocket presence and execute his throws, then he should keep the competition going. If he struggles, then Clausen could widen the gulf and throw Palmer's candidacy for a roster spot into doubt.