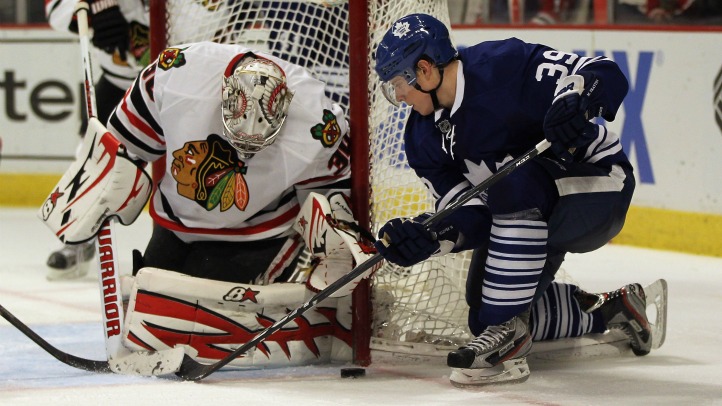 Though the Hawks were struggling, most fans probably came into Wednesday night's game against the Maple Leafs expecting a win and a relatively routine one at that.

After all, the Leafs are a non-playoff team in the East, having lost 10 of 11 games, and are generally a mess. Their players are mentally fragile, their coach has lost his mind, the GM wants to punch someone, they had one line capable of hurting teams, etc. So the call for a win to make everyone feel good for a couple days went out.
It went unanswered.
But the Hawks did win, they showed a modicum of fortitude in coming back from two goals down, and this late in the season it would be overkill to complain that much. It would be in the same vein as not getting a free dessert after a large but satisfying meal. Yeah, it's probably what was warranted but you still got what you paid for.
The Hawks paid for some defensive goofiness in the 1st, with both Brent Seabrook and Dave Bolland combining on some Benny Hill play in their own end for Toronto's first. They answered relatively quickly through Andrew Shaw, but then Patrick Sharp took an offensive zone penalty almost directly from the resulting faceoff, which would be in the 101 class of things not to do. On that kill, all of Jamal Mayers, Marian Hossa and Brent Seabrook got lost, which allowed Phil Kessel and Joffrey Lupul to combine for a rudimentary goal. Once down one, you're only a bad bounce away from real problems, and that's where the Hawks found themselves after Clarke MacAurthur was able to benefit from said bouncing puck.
But the Hawks got a goal when they needed it, which isn't a lyric I've gotten to sing much lately. They got some traffic in front, Nick Leddy found Marcus Kruger with it, and momentum was theirs in the second.
As affirming as the mauling of the Leafs in the second was, where the Hawks took the lead through Patrick Kane and Marian Hossa, the bomb shelter treatment of the 3rd erased that. The Hawks are best when attacking, and only through Toronto incompetence and last-ditch Chicago defending did they survive a final period where the Hawks simply stepped on their back foot and waited for it to be over.
That's got to stop, but it's a win. I'll just settle for that. So will you, most likely.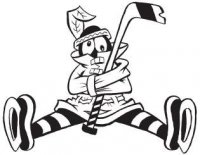 Sam Fels is the proprietor of The Committed Indian, an unofficial program for the Blackhawks. You may have seen him hocking the magazine outside the United Center at Gate 3. The program is also available for purchase online. Fels is a lifelong 'Hawks fan and he also writes for Second City Hockey .