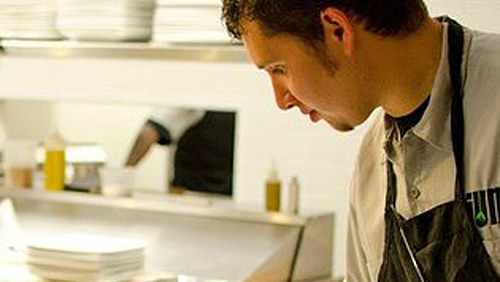 A Mokena student/chef is sharpening his knives in preparation for the opportunity of a lifetime.

Ilinois State University's Kevin Marquardt scored an internship at Noma restaurant, a Copenhagen, Denmark eatery perennially ranked as the Best Restaurant in the World by Restaurant magazine.

"I'm excited. It's a great opportunity," says the 23-year-old Marquardt, who leaves for Denmark later this month. "I'll be doing what's called a stage, which basically means I go in and help out with whatever they need in the kitchen."

Marquardt has been saving his pennies over the past few months in order to survive an entire summer in one of the most expensive cities in Europe. The internship is unpaid, but he's hoping to make a great impression and land a job at the restaurant. He'll be rubbing shoulders with several other interns at the restaurant in a notoriously competitive environment -- not to mention being under the tutelage of renowned chef and co-owner René Redzepi.

"Until now I've only worked in the Midwest. I've been to Thailand and Bangkok, but Europe is going to be a completely unique experience," Marquardt says. "Most people I work with, they never leave the area, but now I feel like I'm getting ahead of the game."

Marquardt received a culinary degree from Kendall College in 2009 and enrolled in ISU to work on a business degree. Not surprisingly, he plans to eventually use that educational focus for his own future aspirations.

"I just really want to learn as much as I can, but eventually I want to open up my own place," Marquardt says. "I like to work with organic, self-sustainable food."

All in due time. First he'll need to learn a little Danish.