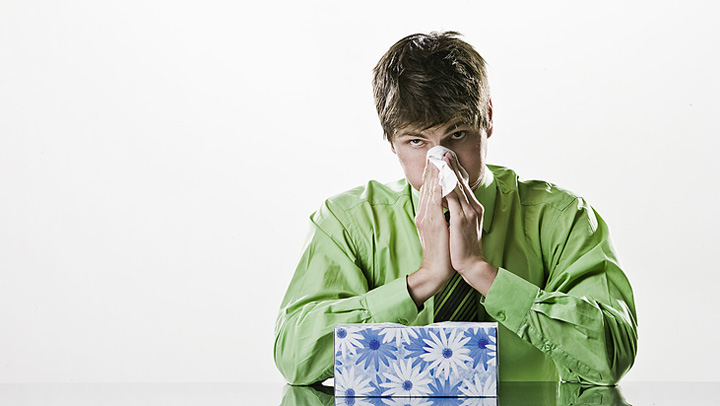 'Tis the season for holiday cheer, gifts and celebration, but for office workers across the country, it is also the season of something else: the flu.
As much as 20 percent of the U.S. population battles the flu each year, with workplaces serving as a common breeding ground for the virus. Each season, more than 11 million workdays are lost due to the flu, which translates to $7 billion in sick time and lost productivity, according to the U.S. Department of Health & Human Services website.
While employees may claim they're "not that sick," a recent Staples Advantage study found that 60 percent of workers who are infected with the virus still feel obligated to show up for work, contaminating everything from doorknobs and faucets to coffee pot handles. It's a problem for any office but especially challenging for companies with open floor plans, which have been linked to higher levels of workplace illness.
In fact, a recent study published in Ergonomics found that employees who share an office with multiple coworkers are more likely to take short-term sick leave than individuals with their own private space. This shows how problematic the flu can be in open-office environments, which accounted for nearly 70 percent of workplaces in a 2010 survey conducted by the International Management Facility Association.
Fortunately, there are several steps businesses can take to prevent the virus from spreading in their office. These include:
1. Encouraging employees to take the day off or work from home: The Staples survey found that 40 percent of employees feel there is too much going on at work to stay home, while 31 percent said they show up sick because they think their boss appreciates it. Yet more than a third of workers surveyed acknowledged their personal productivity is less than half their usual level when they come to work with the flu – in other words, it's not worth it. Employers therefore should have the technology in place (e.g., cloud-based file storage, VoIP phone systems, and so on) to enable employees to work from home if they feel it's necessary. This will help discourage employees from coming into the office and exposing others to the virus.
2. Remembering the basics: It may seem obvious, but basic sanitation – even if it's something as simple as hand sanitizer – can go a long way in preventing the spread of workplace illnesses. While larger companies often hire cleaning crews to assist with this, smaller businesses may think they're unable to afford daily cleaning services. What some employers don't realize is that the cost of these services – especially if they're only used during flu season – can be offset by increased productivity that would otherwise be lost to employee sick leave. Another affordable alternative to traditional office space is a shared office, where the landlord is responsible for all cleaning duties.
3. Reevaluating your floor plan: Approximately 88 percent of employers in the Staples survey said they encourage sick employees to stay home, but even if they're able to work remotely, some will inevitably show up at the office no matter how bad they feel. While open floor plans have been lauded for facilitating teamwork and collaboration, they've also given rise to new challenges that go beyond illness. People who work in open offices have reported higher levels of stress than those who work in standard offices and frequently say they're less productive than they would be if they had a space of their own. If a company's office layout is creating more problems than it solves, it may be time for a move or remodel.
By implementing one or more of these practices, businesses of all sizes can take a proactive approach to flu prevention, maximizing productivity and boosting employee morale.
Frank Chalupa is president and co-founder of Amata Office Centers, Chicago's largest privately owned office suites provider. Founded in 2002, Amata offers an array of full- and part-time office solutions to businesses of all sizes. With six locations to choose from in downtown Chicago, including the company's newest center at 150 S. Wacker Drive, Amata offers flexible terms that allow businesses to change and grow as needed. Learn more at amataoffices.com.