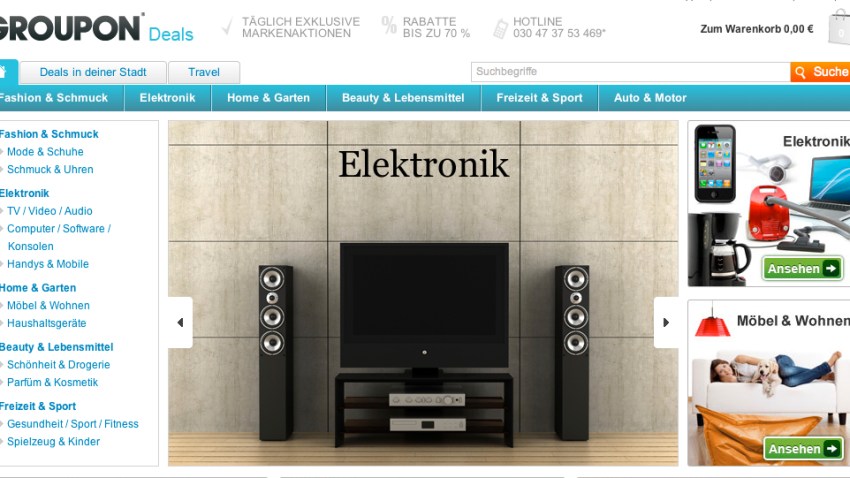 This could be the calm before the storm, or at least the prizefighter that is Groupon telegraphing its first big moves for 2012.
The always eagle-eyed Techcrunch.com has spotted that Groupon's German outpost has launched a site, Groupon Deals, that feels a lot like Amazon in spirit. Is this something that's only going to be in Germany? Does this mean Groupon is shifting to deals with no time limits? Does this mean Groupon is our daddy? Nobody knows. It's that wonderful nascent period of a new development, a new wrinkle, a new possibility for Groupon.
And frankly, Groupon needs to evolve, as its stock isn't doing so great at the moment. It's back under $20, still, as of press time at $19.52. To stay competitive, it needs do better, of course. Especially because its competition, or clones, are starting to consolidate. EIN News is distributing a press release reporting that crowdsavings.com is "growing by leaps and bounds, swallowing up successful startups like Buffalo's hugedailydeal.com… Groupon had better watch its back." That's a little premature to say, and perhaps editorializing a bit too much for a press release, but, consider this with a big ol' grain of skeptical salt, also from the same release:
"HugeDailyDeal's success and ultimate salability came from two vital components: powerful software on the back end and Rathman's marketing savvy on the front end. With such a powerful combination, sales rose exponentially and the site was able to easily accommodate this degree of growth."
On the other hand, there was a time when Groupon was undeniably a media darling, too. It's too early to say Groupon's rise is done… it's just on a bit of a detour at the moment.
David Wolinsky is a freelance writer and a lifelong Chicagoan. In addition to currently serving as an interviewer-writer for Adult Swim, he's also a columnist for EGM. He was the Chicago city editor for The Onion A.V. Club where he provided in-depth daily coverage of this city's bustling arts/entertainment scene for half a decade. When not playing video games for work he's thinking of dashing out to Chicago Diner, Pizano's, or Yummy Yummy. His first career aspirations were to be a game-show host.