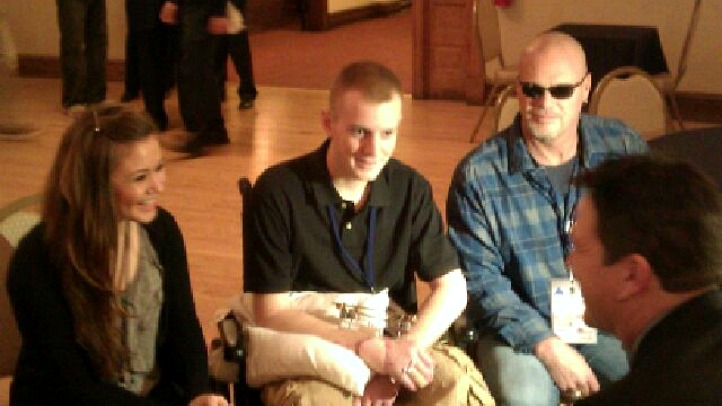 Super Bowls are known to make heroes.

Days before Sunday's big game, Jim McMahon, who reached hero status with the Super Bowl Bears of 1985, brought a hero of another caliber to Indianapolis -- a wounded warrior.

Lance Corporal Kyle Mosher and his wife, Alex, from Oswego are McMahon's guests at Super Bowl XLVI. Mosher's doctors at Bethesda Naval Hospital granted him special permission to leave and join the party in Indy.

On Nov. 22, just a few days into his first tour of duty in Afghanistan, Mosher's Humvee hit a bomb. The young soldier suffered a concussion and bone fractures.

He was OK, but two weeks later he was not. Mosher was on foot duty when he stepped on an IED. This time he lost both his legs.

After fighting for his country, Mosher said he had to fight for his life.

Two months later he is smiling again thanks to Jim McMahon and the Wounded Warrior Project.

Football does that -- brings heroes together.

McMahon knows it.
A company called Valley Fire Protection is hosting a fund raiser for Mosher on March 18 at Parkside Lanes in Aurora, Illinois. Call 630-761-3168 or contact Robyn Seibolds at 630-761-3168 with questions.