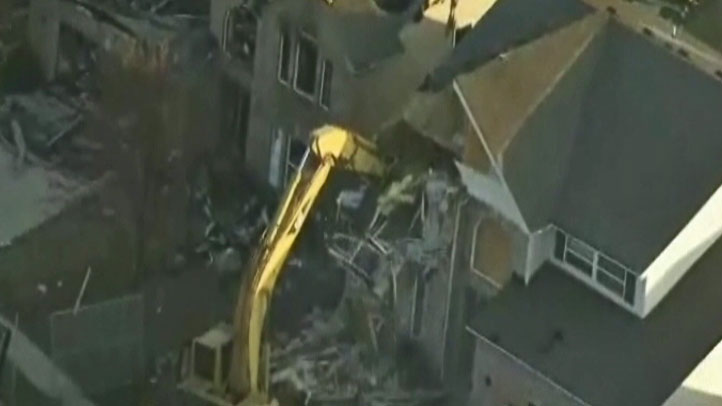 A couple whose home was heavily damaged by a deadly house explosion that left part of an Indianapolis neighborhood in ruins watched quietly Tuesday as a large excavator pulled apart their shattered home -- the first of nearly three dozen slated for demolition in the coming month.
Brett and Nikki Cocherell stood subdued across the street as the excavator tore into their home's second floor, sending insulation and drywall dust flying and revealing its buttery-yellow and pale blue interior walls.
The couple left before the demolition was complete and did not speak to reporters, taking with them a small section of mortared bricks pulled from their home's rubble as a memento.
Mike Phillips, a neighbor who stood with the couple during part of the demolition work, said they were in a surprisingly good frame of mind as they watched their home come down.
"They were kind of joking, trying to keep it lighthearted. They're in good spirits," said Phillips, who was awaiting an engineer to examine his home, which was also damaged in the explosion.
City building inspectors have ordered the demolition of 29 houses in the Richmond Hill subdivision, while four other homes also will be razed once an arson investigation is completed into the Nov. 10 blast that killed a young couple.
Authorities have said they believe the explosion was intentional and caused by natural gas, but have released no other details in their ongoing investigation.
Jennifer and John Longworth, who lived next door to the house believed to be the epicenter of the blast, died in the explosion.
The explosion damaged about 90 of the 125 homes in the subdivision, causing an estimated $4.4 million in structural damage to those homes, said Adam Collins, a deputy director with Indianapolis' department of code enforcement.
The 33 homes set for demolition were the most severely damaged, but Collins said dozens of other houses suffered nonstructural damage such as shattered windows, cracked walls to buckled garage doors.
He said homeowner's insurance should pay for the demolition of all the homes and debris removal. The cost of demolition is estimated at between $8,000 and $9,000 per home, but varies on each structure's size and design, Collins said.
"We're just focusing on turning this back into a construction site and getting the demolition accomplished so these people can get started on their recovery as quickly as possible," he said.
Six homes, including the Cocherells', must be razed this week, and another six are slated for demolition next week. The owners of another 17 homes have until Dec. 20 to either raze their homes or get an engineer's ruling that they can be saved.
Phillips, whose ranch-style home is about 75 yards from the Cocherells' home, said Tuesday he was awaiting an engineer to conduct a second inspection of his home. His home's first inspection found that it did not need to be demolished, but Phillips said he's worried about that assessment because his neighbors' homes were ordered razed.
He fears there could be hidden structural damage that won't come to light until he tries to sell his home.
"Five years from now, I don't know if somebody's going to want to buy a house in here that's this close to something like this," he said, gesturing toward ruined homes on the street behind him. "It's just a lot of stress. You don't want to screw anything up — I mean it's our house."