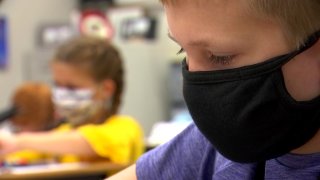 An Indiana school district recorded 50 new positive COVID-19 cases among students and staff last week, causing over 700 people to be quarantined due to close contact.
Crown Point Community School Corporation jumped from five new COVID cases the week of Aug. 18 to 50 new cases last week, according to data from the school district.
The new cases recorded two weeks prior sent 29 students and staff into a quarantine, then 707 more last week. This week, the school district has already asked 146 students to isolate.
In all, Crown Point Community School Corporation has 9,821 students and staff stretching over a portion of northwest Indiana, including the following schools:
Crown Point High School
Colonel John Wheeler Middle School
Taft Middle School
Eisenhower Elementary
Lake Street Elementary
MacArthur Elementary
Solon Robinson Elementary
Timothy Ball Elementary
Winfield Elementary
Crown Point Community School Corporation Learning Center
Central Office and SSC Departments
The school district announced Tuesday that all students will be required to wear masks during the day beginning Wednesday.
The new guidance allows for the district to follow additional protocols for those in quarantine to return to school earlier. Those who are unvaccinated showing no symptoms of COVID can:
Provide a negative PCR COVID test result. The test must occur after day five and produce a negative result for a return on day eight.
Return to school without a negative test result on day 11.
"We committed to watching our school data to determine policy changes throughout the year. That data shows that wearing masks would significantly lower our number of quarantines. Using the return procedures above can help shorten the length of quarantines. We must do what we can to keep our students in class."