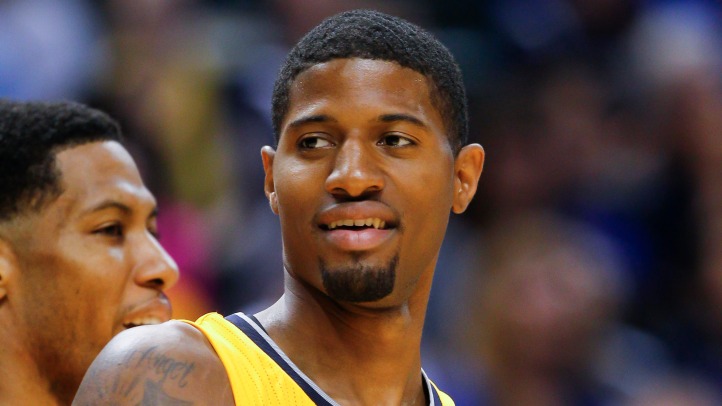 Much has been made of the supposed "rivalry" between the Chicago Bulls and Indiana Pacers.

Indiana has made slow and steady progress since the 2010-11 season and, in the eyes of many, established themselves as a legitimate title contender when they pushed the Miami Heat to the brink of elimination in last year's Eastern Conference Finals.
The Pacers play with a swagger and confidence that every great team in the history of the league has had. After moving to 5-0 on the season with their 97-80 defeat of Chicago Wednesday night, it's easy to sense that Indiana is feeling good about themselves. But are they going just a tad bit overboard?
"We want to step away from that shadow as the 'little brothers' of this division," Pacers All-Star Paul George told NBA.com after the victory. But it was his follow-up comment that raised the most attention.
"[Chicago's] success is the Michael Jordan era. This is a new age; this is a new team. It's ours till they take it."
Say what?
There's no question the Pacers have earned every bit of respect they've been given thus far. Many pundits picked them to best the Bulls in the Central Division and even the Miami Heat in the Eastern Conference for a chance to play for the NBA Championship. But if we're being realistic about all of this, it's worth noting that in the "era" that Paul George is speaking of, the Pacers haven't won anything.
Yes, they won the Central Division crown last season, but Derrick Rose didn't play. It's also worth noting that the Paul George-led Pacers have yet to beat the Bull in any games that matter, like the playoffs.
And this is not to say they can't or even won't, but D. Rose is back and the Chicago Bulls – despite their poor play early on – aren't going anywhere, contrary to what George may think or feel.
It's great to have championship expectations and the roster talent to back that up, and despite their 5-0 record, it appears the Indiana Pacers are putting the cart before the horse.
There's plenty of basketball left to be played.