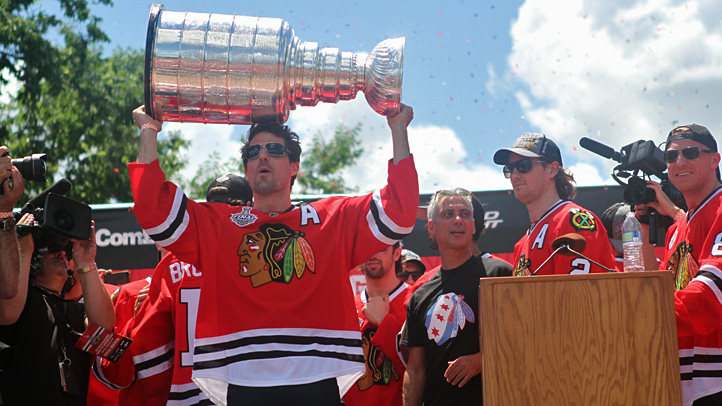 About 40 miles southeast of Chicago in Hobart, Ind., something remarkable has sprung up in the corn fields of County Line Orchard.
No, it isn't a Field of Dreams with players like Shoeless Joe Jackson walking around and playing scrimmage games. Rather, it is a pair of corn mazes dedicated to the 2013 Stanley Cup champion Chicago Blackhawks.
The mazes are cut into the field when the corn is about a foot tall, and are mapped out using GPS mapping technology. The corn in the fields is planted twice so that the aerial view of the map is extra distinctive.
One of them features not only the Cup itself but also a likeness of Conn Smythe winner Patrick Kane:
County Line Orchard in Hobart, IN paying tribute to the #Blackhawks with two corn mazes... pic.twitter.com/zLM8Ku7Jex — Marcus Leshock (@marcusleshock) July 30, 2013
The other one shows the team's shoulder crest, a "C" with crossed Tomahawks:
Here's what the second County Line Orchard #Blackhawks corn maze will look like... http://t.co/HOB05NNvA5 pic.twitter.com/CtVO3uCjpE — Marcus Leshock (@marcusleshock) July 30, 2013
The mazes will open in September. Last year, the farm featured a maze honoring legendary Chicago Cubs third baseman Ron Santo on his induction into the Baseball Hall of Fame, and also one saluting the arcade game "Pac-Man."