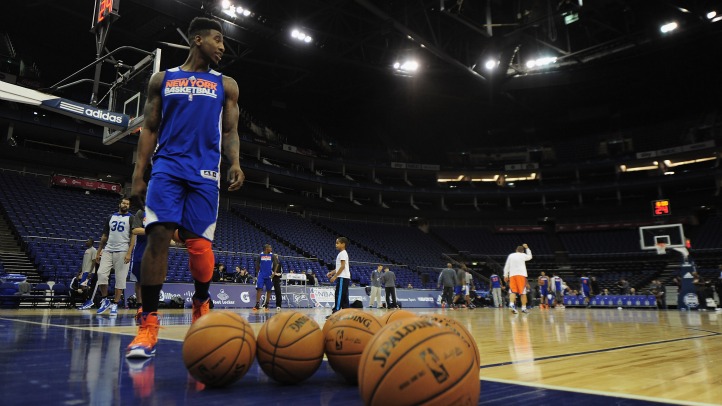 Besides being playing point guard in the NBA, repping adidas and being Chicago natives, what do Derrick Rose and Iman Shumpert have in common? Both players tore the ACL in their left knee on the same day.
Shumpert, who starred at Oak Park-River Forest High School and now plays for the New York Knicks, tore his ACL within hours of D. Rose tearing his on April 28, 2011. It was a very disappointing day for Chicago basketball fans and you never want to see such young players with so much promise suffer an injury that could change the course of their careers forever.
But while Rose is still working hard to make his comeback,
Shumpert is apparently ready to go
. The guard is slated to make his debut on Thursday as the Knicks take on the Detroit Pistons in London at O2 Arena. The second-year guard would be the second player to come back this season from a serious knee injury; the first being Minnesota Timberwolves guard Ricky Rubio.
Shumpert underwent reparative knee surgery just four days after his injury, on May 2. Meanwhile, D. Rose didn't have his surgery until 10 days later, on May 12. Rose has previously stated that he's
ready to go
, but the Bulls are continuing to take a cautious approach and the former league MVP isn't expected to come back until sometime before or after the All-Star break.
So while Bulls fans are anxiously awaiting the return of their superstar, basketball fans in Chicago should be extremely happy that another one of their own is making a return to the court after suffering such a catastrophic injury.
Follow "Outside Shot" on Twitter (
@Outside_Shot
) for more Bulls news and information.