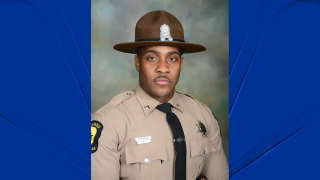 An Illinois State Trooper died Friday from a self-inflicted gunshot wound on the Dan Ryan Expressway in Chicago, according to state police officials.
A trooper was found shot in his squad car at approximately 1:43 p.m. on the expressway near West 43rd Street, authorities stated. An officer who was off-duty at the time found the trooper and used his radio to call for help.
""Help! Off Duty! We need help, please!," she radioed. "Officer shot!"
The trooper was identified as Gerald Mason, 35, an 11-year veteran of the force. He was transported to the University of Chicago Medical Center and pronounced dead at approximately 2:16 p.m., according to a news release from state police.
Following an autopsy, the Cook County Medical Examiner's Office confirmed Saturday that Mason died by suicide.
"Trooper Mason was one of the many fearless Troopers assigned to ISP District Chicago," ISP said in a news release, in part. "We are asking the public to respectfully give consideration to the family of Trooper Mason and the whole ISP family while we continue to grieve and work through this tragedy."
The agency launched an investigation into the trooper's death, and an autopsy was expected to take place Saturday.
Following Mason's death, Brendan Kelly, director of the Illinois State Police, called on residents to rally around those in law enforcement, saying it's recently been a challenging time for men and women in uniform.
"The work these men and women do everyday, it's ongoing, they're exposed to the most horrific parts of human nature and they do it again and again and again," he said. "Those scars build up over time and they have an impact."
A procession consisting of state troopers, Chicago police officers and other law enforcement members escorted the fallen trooper from the University of Chicago Medical Center to the Cook County Medical Examiner's Office.
The inbound lanes of the Dan Ryan were closed while police investigated on scene, but had reopened before 6 p.m.
The shooting comes one day after Illinois State Police announced they were doubling their patrol presence on expressways amid an increase in shootings starting Friday evening.
That presence, however, was expected during overnight hours, when many of the shootings have taken place.
According to a press release from ISP, state police were increasing their patrol presence by approximately 157% during what it called "peak criminal activity times" on expressways.
That increased presence was set for evenings and on overnight shifts.
Troopers were being relocated from around the state to District Chicago to help with staffing.
Illinois State Police say that there have been at least 185 reported shootings on Chicago expressways so far in 2021, up from 128 that occurred in all of 2020.